Ben Ashforth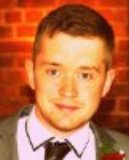 After visiting the quaint town of Aberystwyth for a University open day way back in 2010, I knew that it was definitely the place for me. Attending University here offers a lifestyle unrivalled by any other I have visited. The town has a fantastic social life with many lively bars that all have unique beverages on offer which are also extremely cheap! The best part though is when the sun is shining and everyone heads to the beach, either to work or to relax.
Accounting and Finance was a course I found very enjoyable despite having no prior knowledge of the subject. The tutors are excellent with a wealth of accounting knowledge as well as practical experience which allows you a real insight into the field of accounting. A wide range of optional modules are on offer allowing you to select modules that are of a personal interest to you. Overall, the tutors and staff are all extremely helpful and are keen for you to succeed!
As well as studying, I undertook a voluntary role with the Citizens Advice Bureau where I worked as a financial capability trainer which entailed offering advice on financial issues to community groups and schools aimed at reducing the number of young people getting into financial difficulty. This work was not only invaluable in terms of my CV but allowed me some practical experience of financial issues as well as teaching experience. My degree offered many opportunities to give presentations and I elected to study "Case Studies in Accounting and Business" where the module is primarily focussed on improving your confidence in conducting presentations.
When starting University you may believe making friends will be difficult, but in all honesty with the endless activities, and opportunities the Union provide throughout Fresher's week and beyond, making friends will be the easiest part of starting University. Joining one of the hundreds of sports clubs or societies will provide a great way to make friends as well as to experience the great 'socials' they have to offer. I was part of a University Digs Football team which was a great laugh both on and off the pitch. I was also a treasurer for the team, which looks great on the CV.
In my final year at Aberystwyth I attended one of the many talks from TEIC (Teach English in China) which is an organisation that recruits graduates into teaching roles throughout China. Although I never imagined back then that I would now be sitting in my office in a medical college in Zunyi, it has offered me so far a great opportunity to travel, and use the transferable skills from my degree. Although I will definitely seek a career in accounting (in the future) I first wanted to experience the world and spend time researching what field of accounting is most suited to me as it is so diverse. Although moving to a country on the other side of the world is not for everyone, your University experience of living away from home, as well as the transferable skills your degree gives you, make it a much less daunting move than you may think, and something I would definitely recommend at least considering.
Overall, I had a fantastic time at Aberystwyth and I am sure if you have been fortunate enough to visit the University and the town, your choice of University will become a much more straightforward one.