Eurion Jones Williams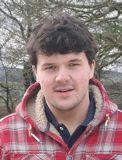 I thoroughly enjoyed my time studying Economics at Aberystwyth. I found it to be a very interesting and fully engaging degree course. I particularly enjoyed the real world application of the degree course and enjoyed studying relevant topics such as we the current Worldwide Economic crisis and historical events such as the Great Depression and the 1980's oil crisis across the different modules. Class sizes were relatively small and this benefited me as a student as it made the experience between students and staff more personal, and it was easy to receive extra help or guidance if you had any problems regarding a certain area.
There are a large number of opportunties to join societies and sports clubs at Aberystwyth. I took the opportunity to join the badminton club and also joined a football team that plays in the Aberystwyth Digs Football League. This was a great way to keep fit and active, but most importantly I was able to meet people who have become lifelong friends.
I am now doing my Masters degree in Welsh Politics and Society (which deals with events such as Welsh Devolution) at the International Politics department in Aberystwyth University. I have gained a full scholarship to undertake my studies; the scholarship involves financial involvement from FBA (a marketing firm based in Aber and Cardiff) and the European Social Fund. My Economics degree helped me to obtain the scholarship as the knowledge and skills that I developed from studying my degree were relevant in the research project that I am required to carry out for FBA.