Dr Kyriaki Remoundou
PhD in Economics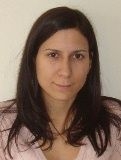 Senior Lecturer
Contact Details
Profile
Kyriaki joined Aberystwyth Business School in 2013. She holds a PhD in Economics from the Athens University of Economics and Business.
She is an environmental economist and her research interests include the economic valuation of ecosystem services and the determinants of environmental behaviour. Prior to joining Aberystwyth University she was a research associate at the Centre for Rural Economy, Newcastle University.
Responsibilities
International Exchanges coordinator for Aberystwyth Business School
PGR contact for the Faculty of Business and Physical Sciences
Office Hours (Student Contact Times)
Publications
Kountouris, Y
& Remoundou, K
2023, '
Does higher education affect pro-environmental behavior? Evidence from household waste recycling in Greece
',
Environmental Research Letters
, vol. 18, no. 8, 084017.
10.1088/1748-9326/ace19a
Christie, M
, Remoundou, K
, Morris, W
, Dickie, I, Neupauer, S & Knight, O 2021,
Shared and Contested Values
. vol. Economics 632, Natural Resources Wales, Aberystwyth.
Gkartzios, M
& Remoundou, K
2018, '
Language struggles: Representations of the countryside and the city in an era of mobilities
',
Geoforum
, vol. 93, pp. 1-10.
10.1016/j.geoforum.2018.04.016
Harvey, C, Rambeloson, A, Andrianjohaninarivo, T, Andriamaro , L, Rasolohery, A, Randrianarisoa, J, Ramanahadray, S
, Christie, M
, Siwicka, E
, Remoundou, K
, Vílchez-Mendoza, S & MacKinnon, J 2018, '
Local perceptions of the livelihood and conservation benefits of small-scale livelihood projects in rural Madagascar.
',
Society & Natural Resources
, vol. 31, no. 9, pp. 1045-1063.
10.1080/08941920.2018.1484974
More publications on the Research Portal