Miss Miranda Whall
BA (Wales) PG Cert (RA School, London)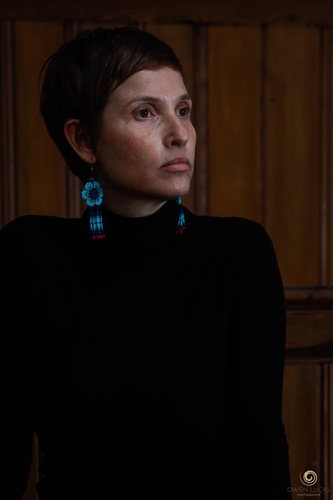 Profile
Miranda Whall is the Director of Creative Arts and lecturer in Creative Arts, fine art, film and media. She came to Aberystwyth in 2006 after working as a freelance artist and teaching at various universities in Fine Art. She studied at UWIC, Cardiff, Emily Carr, Vancouver, Royal Academy Schools, London and Goldsmiths University London. She is a practicing and exhibiting international artist. She was recently awarded the Arts Council Major Creative Arts Award for her project Passage; a multi screen video and audio installation premiered at ICIA, Bath University 2015 and an ACW Large Production Grant for the first part in her trilogy project Crossed Paths. Crossed Paths - Wales included an artists residency with Pwllpeiran Upland Research Centre, IBERS, AU, 11 new creative commissions - music, text, poetry and photography, a documentary film by Fforest Films, a publication with a commissioned essay, an 8 screen audio and video installation and contextual exhibition at the Oriel Davies Gallery, Newtown, a gallery panel discussion and a field trip. Whall is now developing the second part of the trilogy in the Cairngorms, Scotland with a residency with Professor Martin Price professor of the Centre for Mountain Research, at the University of the Highlands & Islands and Iliyana Nedkova creative director of Horescross Arts - Perth Concert Hall and PerthTheatre.
Teaching
Research
Film and digital arts; sound, image, text, performance, multi screen installation, mixed media, drawing and mountain and upland ecology.
Publications
Whall, M
,
Passage: A multi – platform project; blog, publication, performance/lecture and a video and audio multi screen surround sound installation.
, 2015, Exhibition.
Whall, MJ
,
LUMINOUS LANGUAGE: group exhibition at Launch F18, New York
, 2013, Exhibition.
Whall, MJ
,
All Your Women Things: works on paper group exhibition
, 2012, Exhibition, PAPER.
Whall, MJ
,
DrawingMMX2/Surface Language, Howard Gardens Gallery, Cardiff
, 2012, Exhibition.
Whall, MJ
,
The Men Don't Give a Fuck, Motorcade/FlashParade, Bristol
, 2012, Exhibition.
More publications on the Research Portal