Dr Peadar O Muircheartaigh BA, MA (NUI Galway), MSc, PhD (Edinburgh)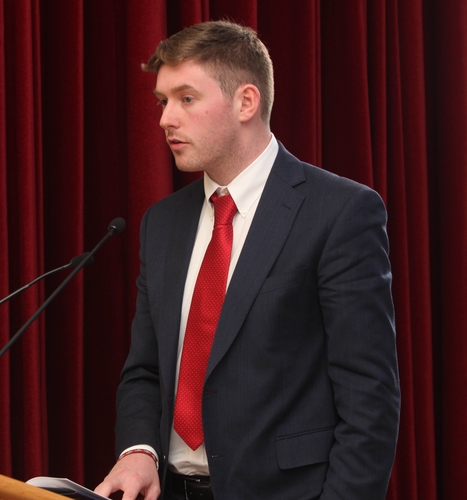 Profile
I studied for degrees in Modern Irish and Old and Middle Irish at the National University of Ireland Galway, before spending a year studying eighteenth-century Irish literature at the University of Notre Dame as the Government of Ireland Graduate Fellow. I then undertook a research MSc in Scottish Gaelic dialectology at the University of Edinburgh before writing a PhD on the historical dialectology of the Gaelic languages at Edinburgh supported by the NUI Travelling Studentship. My PhD was awarded the Zeuss Prize by the Societas Celtologica Europaea in 2016. I held an Irish Research Council Fellowship at the Dublin Institute for Advanced Studies for the academic year 2017-18.
At Aberystwyth, I teach Modern Irish and Scottish Gaelic - both language and literature - with occasional contributions to the medieval language. I welcome enquiries from prospective PhD students whose research interests intersect with my own.
Additional Information
I am External Examiner for Celtic and Scottish Studies at the University of Edinburgh and External Examiner for Scottish Gaelic at the University of the Highlands and Islands. I am a member of the Editorial Board of the Proceedings of the Harvard Celtic Colloquium.
Teaching
Research
My research interests fall into two (broad) categories:
I am interested in questions of linguistic variation and change in the Gaelic languages (Irish, Scottish Gaelic and Manx), with a special interest in historical dialectology and historical sociolinguistics from the earliest period down to the present day.
My second research interest is in Gaelic literature and literary history during the 'long' eighteenth century, especially questions of textual transmission between Ireland and Scotland and the relationship between manuscript and print.
Publications
O Muircheartaigh, P
2019,
An tsochtheangeolaíocht stairiúil
. in T Ó hIfearnáin (ed.),
An tSochtheangeolaíocht: Taighde agus Gníomh.
Cois Life, Baile Átha Cliath, pp. 103-132.
O Muircheartaigh, P
& Clugston, J 2017, '
A note on pronoun marking and register in Scottish Gaelic
'
Australian Celtic Journal
, vol. 14, pp. 7.
O Muircheartaigh, P
& Walsh, J (eds) 2016,
Ag Siúl an Bhealaigh Mhóir: Aistí in Ómós don Ollamh Nollaig Mac Congáil
. Baile Átha Cliath .
More publications on the Research Portal