Tun Arshad Ayub (1928-2022)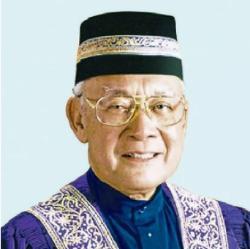 Tun Arshad Ayub, who has died aged 93, was a committed 'Aberite' - student, Fellow, Old Students' Association President and driving force behind the Aberystwyth University Alumni Club of Malaysia. He had a remarkable life as an educational visionary, eminent civil servant and man of action.
Arshad was born in Johor in rural southern Malaysia in 1928. The oldest child of a rubber tapper, he was raised in economic hardship. He suffered from typhoid and, following the death of his parents, took on the responsibility of raising his four younger siblings. His future seemed bleak, but it was those difficult early years that were so formative to his subsequent calling as an educator and civil servant. He was determined to help disadvantaged children overcome their adverse circumstances through education. He said, "I was exposed to poverty, so I understand what poverty is.'
In 1954 he graduated with a Diploma in Agriculture from the College of Agriculture in Selangor and was then awarded a Colonial and Development Scholarship to study at the University College of Wales Aberystwyth, graduating with a degree in Economics and Statistics in 1958. In 1964, he obtained a Diploma in Business Administration from the Management Development Institute in Lausanne.
Arshad's involvement in education management began in 1965 as Principal of the MARA College of Business and Professional Studies in Malaysia. In 1967 MARA was transformed into the Institute Technology MARA (ITM) with Arshad becoming its first Director. Over the next eight years he laid the foundation for what is now Universiti Teknologi Mara and led one of the most successful education initiatives in the country. Planning for years ahead, he was the first to introduce courses in applied science, mass communications, business management, architecture, public administration and hospitality. Such courses were virtually unheard of in the 1960's.
When Arshad opened Mara's doors in 1965, there were 219 students and 11 lecturers. When he left in 1975, there were 6,856 students and 904 lecturers serving 60 programmes in 13 different schools and branch campuses. Today UTM is Malaysia's largest institution of higher learning with more than 165,000 students.
Following his time at ITM Arshad turned his significant talents to the civil service, reaching the rank of Secretary General of three Ministries by the time he retired in 1983. These were the then Ministry of Primary Industries, Ministry of Agriculture, and the Ministry of Land and Regional Development. In addition, he was entrusted with responsibilities as Deputy Governor of Bank Negara, Malaysia's central bank and as the Deputy Director General of the Economic Planning Unit.
Until his death he continued to sit on the boards of public agencies, private corporations, and numerous non-profit and voluntary organisations. As a talented and decisive manager his services were much in demand - he was, for example, Chairman of the Board of the University of Malaya, Pro-Chancellor of the Universiti Teknologi Mara, Chancellor of INTI International University College, and Governor of Kolej Tuanku Jaafar.
Arshad was widely regarded as an education innovator who had a tremendous impact on business and education in Malaysia for nearly half a century. His fervent belief that a second chance is everyone's right gave hope to many young Malaysians who had little or no chance of an academic future. This unerring commitment and dedication in shaping Malaysia's education landscape through reform and innovation truly personified the spirit of nation-building and the pursuit of excellence. For this he was awarded, in 2020, the title of Tun, the highest federal award made by the King of Malaysia.
Tun Arshad never forgot his time at Aberystwyth and was a consummate ambassador for his alma mater. Whether through the alumni club, which he inspired, or through the many interviews he gave about his life, he promoted 'the College by the Sea'. He also eagerly supported any family members who wanted to study in Wales - and it is fitting that two of his grandchildren will be graduating from Aber in July.
He was married for more than sixty years to Toh Puan Zaleha. He was immensely proud of his seven children, and twenty-nine grandchildren. Anyone who was fortunate enough to be able to visit him would be greeted by his engaging smile – and the sight of at least a dozen of the youngest grandchildren asleep on the covered terrace of his lovely home.
A towering figure in his country's development, he will be greatly missed by all who knew him.
Mr Stephen Lawrence
Former President of Aberystwyth University Old Students Association