Colten Hughes (1991 - 2020)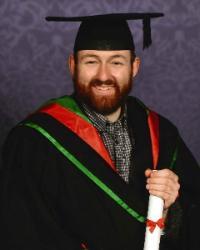 It is with great sadness that we recognise the passing of Mr Colten Hughes. Colten 'Colt' Hughes graduated from Aberystwth Business School in 2017 with a BSc in Business and Management. To many he was he was our fun-loving American who was extremely popular with both staff and students, he will be remembered with great affection by all who knew him. Colt was a talented student and contributed fully to University life. Our staff had a deep affection for him and he will be very much missed by all who knew him. Our deepest sympathies go out to his family.
Professor Andrew Thomas
Head of Department - Aberystwyth Business School
Colten "Colt" Curtis Hughes was born on November 17, 1991, in Lacrosse, Wisconsin. He was the son of Curtis and Tressa (Trailer) Hughes. Colt was baptized as an infant and was later confirmed in his faith as a youth at Faith Lutheran Church in Hutchinson. He received his education at Ridgewater College in Hutchinson and later attended Aberystwyth University in Wales, United Kingdom for Business Management.

Colt proudly served in the Minnesota National Guard. He later entered active military service in the United States Army on May 24, 2011, in Hutchinson, and served his country during the Persian Gulf Era. He received an Honorable Discharge on October 15, 2013, at Fort Carson, Colorado.

On October 12, 2019, Colt was united in marriage to Gabriela Bernadetta Pytel on Lake Minnetonka. Colt and Gabriela resided in Silver Lake, Minnesota.

Colt was employed as a Supply Chain Analyst at 3M in Hutchinson. He was a proud member of the VFW Post 906 in Hutchinson.

Colt was truly known for his kind heart and never-ending smile, which brightened everyone's day. He enjoyed riding his motorcycle, hunting, fishing, and traveling. He also enjoyed grilling and growing vegetables. Colt was a proud Green Bay Packer stockholder and season ticket holder. He especially enjoyed spending time with his family and friends. Colt had many dear friends and family, but his dearests were Ryan and Alexandria, Ryan was his best man and Colt was Ryan's.

Colt passed away on Sunday, July 26, 2020, at Hutchinson Health, at the age of 28 years. Blessed be his memory.
Colt is survived by his: Wife, Gabriela Hughes of Silver Lake, MN; Parents, Curtis and Tressa Hughes of Silver Lake, MN; Siblings, Shane Hughes of Minneapolis, MN,
Kylie Hughes of Lacrosse, WI;

Photo https://www.hantge.com/obituaries/colten-colt-c-hughes/
Approved use by Hantge Funeral Chapels.