Dai Jones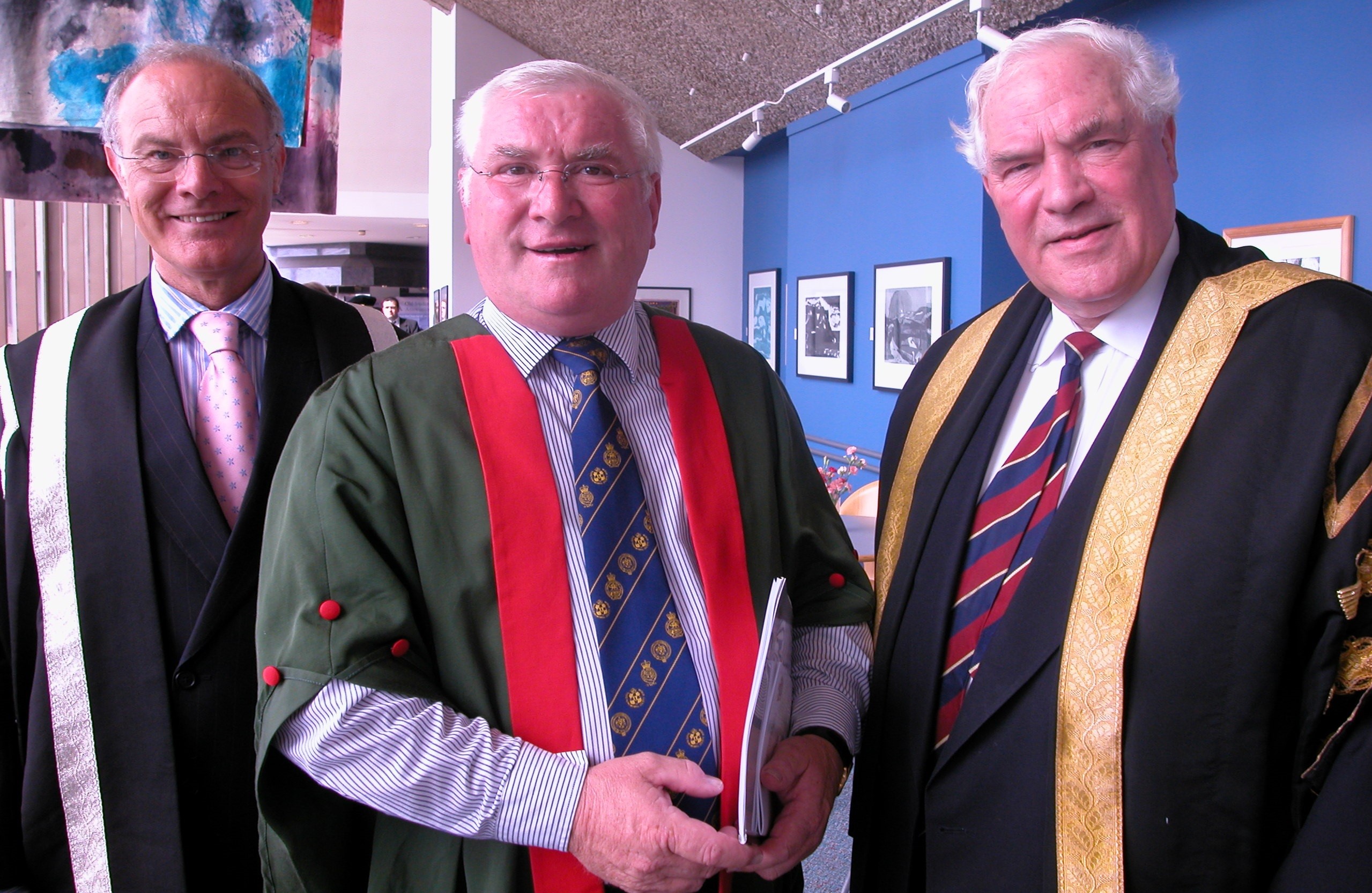 Image: Dai Jones Llanilar (centre) on the day he was made a Fellow of Aberystwyth University in 2004, in the company of the late Lord Elystan Morgan (right), a former President of the University, and Professor Derec Llwyd Morgan, former Vice-Chancellor and Principal.
Broadcaster and farmer, Dai Jones Llanilar, who died on 4 March 2022, was honoured as Fellow of Aberystwyth University in 2004 for his contribution to rural life in Wales. Alun Elidyr, who graduated in Welsh and Drama (1980) from Aberystwyth and who now farms near Dolgellau, pays tribute to the man who opened the door to his own career as a broadcaster.
"Dai Jones, Llanilar was one of a kind. Wherever you go in rural Wales you'll find someone who has a positive anecdote about him due to his approachable personality, his wit and his outstanding ability to treat everyone the same.
At home, we always had to try to tune in to the programme Sion a Sian to hear which song Dai would sing at the end, and later on Cefn Gwlad was the cornerstone of my parents' viewing on S4C. At the end of every summer, returning from sheep shearing contests around the country, my father would regale us with amusing stories of Dai Llanilar's teasing and mischief. He would be found wherever the rural culture was thriving, and he elevated the status of those events.
I got to know him when he came up to me at an auction for Welsh Black Cattle in the mart at Dolgellau. I had only recently taken over the farm at Caecoch following my father's unexpected death. He asked me whether he could come over to film my story. "With pleasure", I said, and three days were arranged for Cefn Gwlad in June. The conversation flowed, and so after one day the contents for the programme was 'in the can'. At that point I realised how talented he was in the field of entertainment. At the end of the programme we set about shearing a few rams, and Dai was supposed to put a blue 'E' as a mark on the side of each completed ram. Well, the ram got to his feet and trotted out with the number 3 in blue on his backside. Everyone laughed and I cursed!
Within a few months, Lowri Gwilym, commissioner for the programme Ffermio, invited me to be one of the series' presenters, and I knew for sure that I had Dai to thank for this. My respect for him was confirmed by the fact that from that first short meeting he always asked after my mother. That was how he was. He had an incredible memory, and he could pick up a conversation completely fluently even after a gap of many years. People and history were his delight.
Because of this, he was just as comfortable and well respected at a Limousin cattle auction in France as he was in one of his favourite places, the Royal Welsh showground at Builth Wells. Even there, farmers from Scotland to Cornwall would be eager to greet him, and Dai would always leave them with a smile on their faces. There's no question that he put Wales on the map wherever he went, and Welsh broadcasting has benefitted considerably from his outstanding ability to celebrate the lives of ordinary country people. He leaves behind a valuable legacy and we are grateful for his life."