Emlyn Hooson (1925-2012)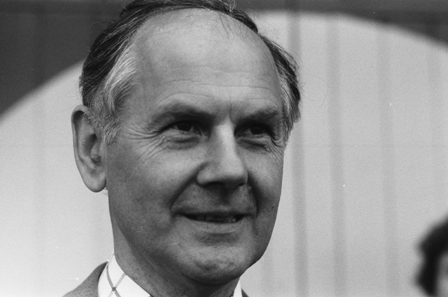 Barrister, politician, businessman, and breeder of Welsh Blacks and of Texel sheep, the list merely suggests the many-sidedness of Emlyn Hooson's life. He came from a talented family in Denbigh and, by marriage, joined another in Llanidloes. After a period in the Navy and at an agricultural college, he graduated in Law at Aber in 1949 (appointed a Fellow in 1997). He quickly achieved prominence in legal circles, in part thanks to remarkable praise from that severe judge, Lord Goddard, commending his 'able and courageous defence'. On the morning of that verdict in November 1950, he had just one brief in his new chambers in Chester; by the following day his clerk had been offered a dozen. So it is no surprise that he was made a Queen's Counsel in 1960, the youngest for several decades. His strengths with judge and jury lay in meticulous preparation, clarity and sharpness of argument, and his ability to hit upon the salient point, coupled with the persuasive nature of his attractive personality. Similar qualities no doubt accounted for his success in the world of business, as Chairman of Laura Ashley for a while, and notably during his chairmanship of the Second Severn Crossing group, where he brought about smooth working relationships between bankers and engineers, British, French and American.
At a by-election in 1962, following the death of Clement Davies, he was elected Liberal Member of Parliament for Montgomeryshire and was prominent in the Commons until he lost his seat in 1979. He was then made a Life Peer, with his full title encompassing both Montgomeryshire and Colomendy in Denbighshire. He was within reach of the leadership of his party in the House in 1967, and was chiefly responsible for forming the Welsh Liberal Party with some measure of independence from London. Among the measures he promoted in Parliament were several relating to depopulation, as well as support for the Welsh language and the progress of devolution (he promoted a detailed bill to that end in 1967). Among his activities within Wales may be listed the attempt to save the Welsh publishing company, Gwasg Gee, in the mid-fifties, his loyalty to the Llangollen Eisteddfod, and his patronage of innumerable small societies in Montgomeryshire and beyond.
From college days on he had a gift for making and keeping friends, across political parties, in law, NATO and agriculture, and spread in almost all parts of the world. He will be remembered as serious but not solemn, thoughtful but not portentous, bold but not rash: a man of character. And his friends in particular will remember his smile, even in the last cruel days when speech had failed.
He died on 21 February 2012, leaving his widow Shirley, herself very active in public life, and two daughters, Sioned and Lowri.
Glyn Tegai Hughes