Gareth Llewelyn Howell (1942-2018)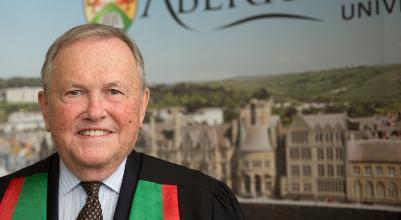 Gareth Howell was recognised for devising innovative and practical solutions to problems in countries in transition or recovering from major crisis situations. He was known to be generous and gracious, and was recognised as a valuable mentor and advisor to many. For these contributions and his lifelong support of Aberystwyth University, he was conferred an Honorary Fellow and the commencement speaker at the Law School graduation on July 20, 2017.
Gareth was born in Rhiwbina, near Cardiff, Wales, to William Llewelyn (Lyn) Howell and Myfanwy Howell on October 14, 1942. He was educated at Cowbridge Grammar School and at Mill Hill School, near London, gained an Honours Degree in Law from the University of Wales, Aberystwyth (1963) and was a member of The Honourable Society of Gray's Inn, London.
His contributions in varied global settings began by working in labour relations at the Ford Motor Company and then later hired as a consultant to the International Labour Organisation (ILO) and the World Bank Group (WBG), where he helped design and promote economic development strategies. These assignments took him to live in Colombia, Pakistan, Thailand, Indonesia and Europe. In 1996, during the immediate post war period in Bosnia-Herzegovina, Gareth led a World Bank/European Union task force to raise $130 million to re-employee ex-combatants, and also notably helped to improve the quality of higher education and technical education in Nepal and Pakistan through the efficient use of World Bank loans.
In 1999, Gareth relocated to New York City and made acting head of the ILO office to United Nations Headquarters. Here he worked with the Secretary General to spearhead post-war reconstruction in Kosovo and East Timor, and to raise global standards of corporate social responsibility including alleviation of abusive employment practices in child and migrant labour, in addition to steps to redress alleged forced labour in Burma and elsewhere.
He supported economic and social developments in El Salvador, Georgia, Morocco, and Namibia by assisting governments to maximise the impact of major grants of the U.S. State Department's Millennium Challenge Corporation (MCC).
Gareth was as a Magistrate in Wales and drafted early proposals for Welsh constitution development, eventually enacted in 1999. He never lost his passion for the Welsh heritage and he donated his extensive personal library of Welsh language books to the Madog Center for Welsh Studies in Ohio. He was also President Emeritus of the St. David's Welsh-American Society of Washington, DC, a board member of the Welsh North American Association, and North America Secretary for the Welsh Legal History Society.
He was fluent in Welsh and several other languages, including French, Spanish, German and Urdu.
Gareth passed away at his home in Falls Church, Virginia, on January 4 2018 and is survived by his wife of 30 years, Amy Titus, and two sons, Llewelyn and Rhys.