Dr John Gwynfryn Morgan (1934-2010)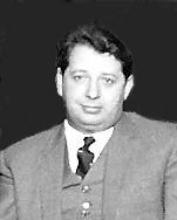 I met Gwyn at the very beginning of my first term as a fresher student at Aberystwyth. Gwyn was already in his third year and we both studied classics. We were chosen to play in the very popular annual performance of the Roman classics comedy show, Gwyn as Julius Caesar and I as Mark Anthony. It was the beginning of our friendship, cemented in my second year when Gwyn asked me to act as chief agent for his election campaign to become President of the Aber Students Union, a campaign he won hands down in great style.
Gwyn then invited me to Cwmdare to meet his parents and over the years I have seen how much he loved and respected the community of Cwmdare and Aberdare, drawing great strength from his roots and from the fellowship he enjoyed with so many here. It was Gwyn's wish to be buried here in Aberdare, close to his parents and to Moira, the sister he loved so dearly.
Gwyn had many talents.This was evident from the earliest days at school and his teachers and contemporaries at the Aberdare Boys School recall Gwyn as a brilliant all-rounder, very gifted academically as well as a talented and enthusiastic sportsman. Armed with a scholarship, Gwyn went to Aberystwyth where he graduated with an Honours degree in Classics and followed that with a Teaching Diploma and an MA degree on the works of Petronius. Although he loved Classics and was a brilliant student, he was not tempted to follow a career in academia. Through his experience as Student President, he had become deeply immersed in and fascinated by the world of student politics as well as in pursuing his passion for sport and most especially for cricket. He captained the Aber Eleven as well as the University of Wales cricket team, drawn from all the Welsh colleges, and played the occasional game for Glamorgan Seconds. He was an inspiring captain and excellent all-rounder, but it was his deceptive bowling that earned him so many wickets which often caught the headlines.
His sporting prowess also included the game of snooker so popular at that time in the South Wales Valleys. Over the years of our friendship we battled hard against each other on the snooker table, Aberdare versus Swansea Valley, and the quality of our safety play bore clear testimony to the hours of practice we both had spent in our youth practising on the green baize when probably we should have been studying.
On leaving Aber Gwyn spent two years as the senior Classics Master at the Regis School in Tettenhall, near Wolverhampton, also playing a great deal of cricket and rugby during that time. Whilst in his teaching post there he won the election to become President of the National Union of Students (the NUS) a post he held from 1960 to 1962. He was the first ex-Aber student to hold this UK wide responsibility, to be followed, to his great delight, by Nye Hughes, also an ex President of the Aber Students Union.
This was an exciting time in student politics and a decisive moment in the development of university and higher education in the U.K. As President, Gwyn led the presentation of NUS evidence to the Robbins Committee on the future of Higher Education. This contribution to the national debate drew widespread praise in the press for "the diplomats of Endsleigh Street", (then the HQ of the NUS), meriting a full review in The Times. The core principle of Robbins, passionately argued by Gwyn, was that "courses of Higher Education should be available for all those who are qualified by ability and attainment to pursue them" - a policy not generally accepted at the time.
As President, Gwyn also oversaw significant contributions to two other Government reports: the Hale Report on University Teaching, and the Anderson Report which addressed the question of student grants. In all this he was driven by his burning conviction that educational opportunity should be open to all and that those from less fortunate socio-economic backgrounds should be given a real chance to realize their full potential. He never forgot that the University at Aberystwyth which he loved so much had been created originally with the pennies of the poor and had opened the doors to generations of Welsh students whose parents had not had such a chance but who were determined to give their children every opportunity to benefit from higher education.
I especially remember a stirring NUS debate at the annual Margate conference on one of the crucial issues of the day, with Gwyn in the Chair. Up the aisle to the microphone strode Vince Kane, then President of Cardiff Students Union, winner of the Observer Mace debating award, dramatically throwing down his prepared speech as he progressed to the stage. Kane's eloquent tirade was met by Gwyn with calm authority and his own special eloquence. He painstakingly took apart Kane's arguments with clinical analysis and persuaded the packed Assembly hall to back his position. I knew then for sure that Gwyn would pursue a political career.
At successive NUS conferences Gwyn was renowned for his renderings , in his completely unmusical voice , of 'tres mures , ecce currunt' - 'three blind mice, see how they run', and when encouraged would also lead on 'Queenie the pride of the burlesque show'. Nye Hughes and I would together later in life cajole him to sing in private for us and the three of us would rock with laughter.
It was during his time at the NUS that Gwyn made his reputation as a committed internationalist. He became one of the most respected Western student leaders in the era of the Cold War. Indeed the Cold War was as viciously fought in international student circles as in the wider political sphere. Under his leadership the NUS became one of the foremost defenders of democratic principles. He was a veteran of many international conferences at one of which the Cuban Delegation was led by Castro's brother toting a pistol in his belt. In late 1962 the story goes that Gwyn sent his incoming successor Nye Hughes to participate in the conference of the Communist International Union of students in Leningrad. Gwyn discussed developments and tactics over the telephone with Nye but, knowing that the conversation was certainly being overheard, was careful to conduct the exchanges in Welsh. At the end of the call he reverted to English and said out loud for all to hear, "Now sort that out".
Unsurprisingly, and as an indication of the high esteem in which he was held in the student world, Gwyn was elected as Secretary General of the non-Communist International Students Union, called The International Students' Conference. This was based near Leiden in Holland – a post previously held by Olaf Palme, later the Prime Minister of Sweden. He served the Conference with great distinction but by this time politics at home was beckoning and Gwyn returned to London as Head of the International Department of the Labour Party, following in the footsteps of Dennis Healey and David Ennals, who previously held that post. This was the period of Wilson and George Brown and of Crosland and Crossman and it is a huge regret that Gwyn never wrote up his insights and commentary on those tumultuous years.
Gwyn worked very closely with George Brown, particularly when Brown, then Foreign Secretary, joined with Harold Wilson in renewing Britain's bid to join the EEC. During that period Gwyn's amazing network of friends among the socialist and social democratic parties in continental Europe helped to convince sceptical Europeans of the sincerity of Britain's bid. And he built links with the people like Douglas Hurd and David Steel from the other parties - links which were to prove invaluable later, at the time of the Heath negotiations and the 1975 UK referendum on Europe.
Gwyn was a major figure in the Socialist International and used his influence not only to promote UK interests but also to lend his support to significant moves in East / West relations including Willy Brandt's Ostpolitic. He built good relations with the Scandinavian parties and engaged their support on the Rhodesia question. He worked closely with Maurice Foley at the Foreign Office on the major issues of the day dealing with Nigeria and South Africa. Tom (Lord) McNally, who followed Gwyn as Head of the International Department of the Labour Party, makes the comment that 'Gwyn kept the Labour Party sane, outward looking and pointing at Europe at a time when the country was struggling to come to terms with its diminished post – war status'.
Promoted to Assistant Secretary General of the Labour Party, and with his growing reputation, it seemed only a matter of time before Gwyn would inherit the mantle of General Secretary. In 1971 Gwyn became a candidate for the General Secretaryship. The detailed story of what happened in the buildup to the controversial and decisive vote by the National Executive Committee (the NEC) on the morning of March 29 1972 is dramatically described by Roy Jenkins in his autobiography A Life at the Centre. He recalls Gwyn as much the abler of the two candidates and as the clear favourite for the post, overwhelmingly so before Harold Wilson's defection and by a few votes even after it. A year earlier, Jenkins writes, 'Gwyn would have romped home. But after hours of procedural wrangle and bitter semi-farce Ron Hayward, not Gwyn, was elected in the third ballot on the casting vote of the then Chairman of the Party, Wedgewood Benn. It was a serious defeat because it both symbolized and reinforced a significant leftward shift in the control of the party machine. It also gave notice that Europeanism was becoming a bar to preferment'. And Jenkins adds 'Gwyn's supporters left the meeting angry, deflated, and fearful for the future'.
Who can tell how Gwyn's career would have developed, had he won that day. As one friend wrote to me, there has always been a sense of what might have been had the cards fallen differently for Gwyn. Personally I have no doubt he would have gone on to a distinguished career in the House of Commons and to a post in the Cabinet.
When the UK officially joined the European Community (the EEC as it then was) in 1973, it seemed perfectly natural that Gwyn should be appointed to serve as Chef de Cabinet to George (later Lord) Thompson, who together with Sir Christopher Soames, held the first two posts of Commissioner from the UK in the European Commission. During his stint in a difficult period of bedding down the three new Member States (UK, Denmark, and Ireland), Gwyn was intimately involved in the negotiations which led to the creation of the European Regional Development Fund which was to become one of the three major funds of the Community, and one from which Wales has benefitted hugely in subsequent years.
By sheer coincidence, we were 3 ex-Aber student presidents who took up different posts with the European Commission in early 1973, Gwyn first and Nye Hughes and I a little later. Gwyn swiftly introduced us to the superb cuisine at Caruso's and soon the 'La Table Des Gallois' was established where our trio, together with Andy Mulligan, the old Irish international scrum-half, would meet regularly to put the world right ,aided by the occasional grappa.
One of Gwyn's early initiatives in which he took great pride was to invite the Cwmbach male voice choir to sing in the Berlaymont, , the HQ of the Commission.
In 1975 Gwyn returned to Wales as the first Head of the newly created European Commission Office for Wales in Cardiff. His joie de vivre, his infectious enthusiasm, and his speaking talents soon endeared him to a huge following in Wales. He had a natural affinity with people from any walk of life. Most especially he brought to the post a combination of passion for the European project, influence in Brussels and London, and sophisticated understanding of where Wales fitted in to that expansive vision. During his time in Cardiff, his office at No 4 Cathedral Road became a magnet for the press and media and a great educational and social centre for people of all persuasions to learn about and discuss European developments.
From Cardiff Gwyn moved to Ottawa to head the Press and Information Office of the EU delegation to Canada. There he made an important contribution to the development of European studies in the Canadian universities. He is still remembered with great affection by the large Welsh community in Canada.
Gwyn then moved again, this time to Ankara as the Head of the European Commission's delegation to Turkey where he made himself unpopular by standing up for the rights of Trade Unionists. He was a superb and deeply informed representative of the Commission, understanding not only the policies but the personalities and politics of the EU better than most. This gift enabled him to enjoy unusually broad and invaluable contacts with the politicians on the ground – to the extent of visiting past and future Prime Ministers of Turkey, Suleyman Demirel and Bulent Ecevit, bitter enemies of each other, when they were imprisoned together along with hundreds of others as a result of the military coup in Turkey in 1980.
After Turkey, Gwyn was designated as Ambassador to Israel where he again courted unpopularity by defending the rights of Palestinians in Israel and the occupied territories. He negotiated the first EU trade agreement with Palestine in this period. On the occasion of Gwyn's accreditation in Israel, Gwyn was almost last in the queue of ambassadors waiting to be introduced to President Herzog when he was suddenly moved forward first to meet the President who greeted him warmly with the words, 'Ambassador Morgan, how's Aber these days? Do they still sing Lan yn Aber in the College? I was there during the war for a year as an evacuee student from University College London'.
Gwyn's last overseas posting was as EU Ambassador and Head of Delegation in Thailand. He was also accredited there to cover Laos, Cambodia, Myanmar and Vietnam. He worked extremely hard to promote the peace process in Cambodia and set up the observation arrangements of the EU on the Cambodian elections, doing his best to bring some reason into the very difficult political atmosphere after the liberation of Cambodia. It was Gwyn too who helped make the practical arrangements for the repatriation of the Vietnamese boat people following their attempts to enter Hong Kong.
During this period Gwyn negotiated the EU agreements with Vietnam, Cambodia and Laos, helping to pave the way for the ASEAN agreement with the EU which again was his main responsibility when he returned to HQ in Brussels in 1996 for his final two year stint as the Commission's head of department for relations with South East Asia.
Gwyn enjoyed his retirement to the full, travelling the world,often on a cruise, with Francoise. He was, as Lord (Asa) Briggs told me, 'at home in every continent'. He was a faithful supporter of London Welsh at Old Deer Park and rarely missed a Wales rugby international since the 1950s. He travelled widely to see Glamorgan County play cricket and it was a great day out to be his guest as an MCC member at Lords. Yet Gwyn still found time to maintain his interest in South East Asia, serving as the EU's Chief Election Observer for the Presidential/Parliamentary Elections in Indonesia.
Aber remained a great passion for him and it would be hard to find a more persuasive advocate of the virtues of study at Aberystwyth. He greatly enjoyed his period as Chair of the Old Aber Students' Association and also acting as a member of the University Council.
Gwyn was the perfect illustration of someone at ease with his sense of multiple identity: first and foremost a Cwmdare boy, a passionate Welshman loyal to the UK, a committed European and an ardent global internationalist. The thread that linked these identities was his lifelong concern for equality and social justice.
Gwyn was larger than life. The secretary of his school in Aberdare told me 'He was quite a boy!' A 'bon vivant' and a wonderful 'life enhancer' is how two other friends have described him. He was without fail great company and his intimate knowledge of the cellars of Burgundy and Bordeaux undoubtedly contributed. One always felt richer and better for having spent time in Gwyn's company. He had that special capacity to give you his undivided attention – never looking over your shoulder to see who else was around. You felt he had a serious interest in listening to you, and in registering your words.
Gwyn was always deeply loyal to his staff, many of them local agents working in difficult local circumstances. As I have personally witnessed, he invariably left behind him a trail of devoted staff who spoke affectionately of him for years afterwards – indeed to this day.
Beneath Gwyn's natural warmth and openness you could sense a shrewd brain at work and I frequently had cause to appreciate his thoughtful, analytical insights into personal and professional problems, including my own, as well as into world events. His photographic memory for peoples' names, allied with his encyclopedic recall of politicians and places all over the world, stood him in good stead. This also explains perhaps his great regular success in completing the most difficult of crosswords.
Last December, out of the blue, Gwyn was diagnosed with an incurable cancer. He bore the last four months with great dignity. Sitting with him we felt that he always believed that he would emerge and be able to go off with Francoise on another cruise as they loved to do together. His remarkable recovery only two months or so ago from an operation on his one remaining eye at least enabled him to watch the Six Nations and the snooker.
He leaves Francoise, children Rhidian, Sian, Gregory, Elliott, and Joanna, and lovely grandchildren whose serenade by Gwyn 's bedside so lifted his heart. All of us here will carry within us our own special memories of Gwyn. In that important sense Gwyn will live on.

So Many Different Lengths of Time
How long is a man's life, finally? Is it a thousand days, or only one?
One week, or a few centuries? How long does a man's death last?
And what do we mean when we say, "Gone for ever"?
Adrift in such preoccupations, we seek clarification.
We can go to the philosophers,
But they will grow weary of our questions,
We can go to the priests and the rabbis
But they might be too busy with administrations.
So, how long does a man live, finally?
And how much does he live while he lives?
We fret, and ask so many questions –
Then when it comes to us
The answer is so simple after all.
A man lives for as long as we carry him inside us,
For as long as we carry the harvest of his dreams,
For as long as we ourselves live,
Holding memories in common, a man lives.
His lover will carry his man's scent, his touch;
His children will carry the weight of his love,
One friend will carry his arguments,
Another will hum his favourite tunes,
Another will still share his terrors.
And the days will pass with baffled faces,
Then the weeks, then the months,
Then there will be a day when no question is asked,
And the puffed faces will calm.
And on that day he will not have ceased,
But will have ceased to be separated by death.
How long does a man live, finally?
A man lives so many different lengths of time.

Hywel Ceri Jones