Emeritus Professor Haydn Mason (1929-2018)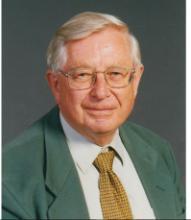 Haydn Trevor Mason, alumnus of Aberystwyth and internationally distinguished scholar in French Literature, died on 16th August 2018 a few months before his 90th birthday. We are grateful to his former colleague, Dr Edward Forman, for permission to abridge the obituary which he wrote for the University of Bristol.
Haydn Mason was a Fellow of the Learned Society of Wales and an Officier dans l'Ordre des Palmes Académiques. Those two characters, the proud and loyal Welshman and the true citizen of the civilized world, were revealed within a very short time in any conversation with Haydn. Whilst Voltaire and Enlightenment Studies were his central focus, his curiosity and erudition were extraordinarily wide-ranging, and conversations with him were characterized by sparkle and insight, punctuated by giggles and guffaws but also by intense pauses in which he would listen, reflect and more often than not move the topic onto a different and deeper plane.
Born in rural Pembrokeshire in 1929, Haydn was a scholarship boy, who never forgot how much he owed to his compatriots: his teachers at Tenby's Greenhill Grammar School and at Aberystwyth University, and the Welsh Rotarians, who sponsored his Master's degree at Middlebury College in the US and opened the way to his first teaching post in Princeton. A doctorate in Oxford was followed by posts in Newcastle and Reading and in 1967 he was appointed to the Chair of European Literature at the University of East Anglia, a brand-new institution committed to 'doing things differently'. Thereafter, his erudition and leadership were increasingly acknowledged nationally and internationally: Haydn was President of the Society for French Studies, of the Association of University Professors of French, of both the British and the International Societies for Eighteenth-Century Studies, and of the Modern Humanities Research Association. Two years as a senior academic in Paris III intervened before his final move to Bristol, where he served as Professor of French Language and Literature, Head of the Department of French and Chair of the School of Modern Languages until his retirement in 1994.
It is perhaps as Editor of a leading international journal, the Studies in Voltaire and the Eighteenth Century that Haydn will be most widely remembered. From 1977-1995, he shaped the international research agenda in over 160 volumes handsomely produced by the Voltaire Foundation. His own many publications, which range from a monograph on Bayle and Voltaire to an acclaimed biography of Voltaire, include a number which make his erudition available in a sprightly and inspiring way to students and non-specialists, as befits a writer who was immoderately generous and unfailingly kind. He was energized by other people: colleagues, students, friends and family. The courage and tenacity with which he faced the tribulations of old age meant that until the very end of his life he could relish his greatest pleasure—a convivial evening around a table with friends and family discussing books, music, art, theatre, politics or sport. It as a privilege to remember him in that way.