Emeritus Professor Ian Parrott MA, D Mus, FTCL, ARCO, FRSA (1916-2012)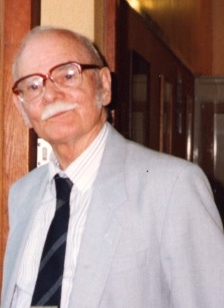 One of Aberystwyth's great musical personalities has died at the age of 96. Emeritus Professor Ian Parrott passed away on 4 September. Professor Parrott held the Gregynog Chair of Music at Aberystwyth from 1950 until his retirement in 1983.

A student at the Royal College of Music and New College, Oxford, he received his DMus in 1940. War service as an intelligence officer under 'Monty' in Egypt inspired several works, including El Alamein and the symphonic impression Luxor, which won the Philharmonic Society First Prize in 1949 and marked Parrott as a rising star in British music. His appointment at Aberystwyth the following year made him, at 34, the University's youngest professor. He lived on to become Aberystwyth's most senior – and the last surviving member of the Senate involved with the Goronwy Rees/Burgess and Maclean imbroglio.

English by birth (he was born in Streatham Hill) Ian Parrott developed a deep love of Wales. Immersing himself in the musical life of his adopted country, he helped found the Guild for the Promotion of Welsh Music in the 1950s. Wales inspired many of his works, such as the overture Seithenin, the seascape Arfordir Ceredigion (written for the 1992 National Eisteddfod at Aberystwyth) and the operas The Lady of Flowers and The Black Ram. (The production of the latter at the King's Hall in 1966 – an all-hands-on-deck affair with his students frantically copying parts – has become almost legendary.) His impressive output also includes two other operas, as well as five symphonies, vocal music, eight concertante and numerous chamber works, many written for leading international artists.

Ian Parrott was an authority on British music and his books include Elgar for the Master Musicians series, as well as volumes on Peter Warlock and Cyril Scott. He also wrote on spiritualism and published a short autobiography, Parrottcisms in 2003. He was a Vice President of the Elgar Society and the Peter Warlock Society, and received the John Edwards Memorial Award for devotion to Welsh Music and the Glyndŵr Award for his outstanding contribution to the arts in Wales. He loved foreign travel and undertook two round-the-world tours examining for Trinity College of Music. The first tour inspired his Second Symphony, subtitled Round the World, and happy times in New Zealand sparked other works.

As Professor of Music, Ian Parrott was central to Aberystwyth's thriving musical life for over three decades. With his brilliant musical intellect and idiosyncratic teaching style, 'Prof' left a lasting impression on generations of music students who remember him with enormous affection. After retiring, he continued to compose and pursued his broad musical interests – and everything else in life – with wonderful energy. Widely regarded as the doyen of Welsh music, the death of this remarkable and unforgettable man closes an era for former students, colleagues and friends.
David Russell Hulme.