Professor Maldwyn Mills (1926 - 2019)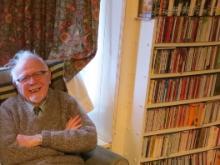 (Maldwyn Mills at 88 in 2014 with his beloved books, CDs and DVDs)
We announce with great sadness that Professor Maldwyn Mills passed away peacefully on Tuesday 26 November 2019 at the age of 93, in Tregaron Hospital after a short illness. Professor Mills had a long and distinguished career in the University College of Wales, Aberystwyth, from 1959 to 1993, specialising in Middle English Romances (in particular Lybeaus Desconus) and Chaucer:
1 Sept 1959: Assistant Lecturer
1 Oct 1967: Senior Lecturer
1 Jan 1974: Reader
7 Dec 1979: Personal Chair (Professor)
Acting Head of the Department from 1 July 1974 – 30 June 1985.
30 Sept 1993: Retirement and Professor Emeritus
During this time he inspired, encouraged and entertained thousands of students with his distinctive, ebullient presence in the lecture theatre. We vividly remember his big booming voice (with its characteristic 'back-R' that made him sound French!) and barking, infectious laugh. He dedicated hours of expertise and knowledge to us, not to mention endless patience and joviality with our blunders! As a result of his generosity of time and spirit – and as one contributor puts it, "under his careful and caring tuition" – many of us went on to gain our PhDs and embark on our academic and administrative careers. In later years when we returned to Aberystwyth for visits we would still "benefit from more advice and friendship" as he continued to take a keen interest in our endeavours. We have much to thank him for.
Tributes have been pouring in, the main elements of which can be summarised here. Most notably, his great gift for friendship with people from all walks of life. If he once took you under his wing, you became - as a former colleague of his describes it – part of his jigsaw, in your own little part of the picture, with him as the central image linking us all together. In the words of another contributor he was our "Welsh Wizard, with his beard and his slightly unruly hair!"
He was extremely modest and self-deprecating about his own achievements, which included launching and playing a key part in Middle English Romance and Chaucer Conferences (ongoing), and many publications (notably Six Middle English Romances), lists of which can be found online. He worked closely with other departments, especially in enabling students to be trained in working with manuscript and archive material, a collaboration which enriched our experience and knowledge.
Individually Maldwyn had so many passionate interests: in terms of non-medieval literature he was fond of Dickens and the Metaphysical Poets, especially Marvell. He was very keen on photography, especially of Romanesque Church Architecture, travelling around with his late wife Viv and friends to remote churches to capture a particularly hilarious or fascinating bit of carving. He loved classical music, particularly Haydn. And in later years, visiting him became an education in vintage cinema, especially very melodramatic, astonishingly quirky films and comedies, which he took great glee in sharing with us. He was, as another describes him, "enormous fun to be with".
Most recently, even while in Bronglais Hospital before moving to Tregaron Hospital, he generously gave his time and knowledge to the Age Cymru 'Valuing Veterans' project, consenting to be interviewed about his wartime service. The interviewer describes his meeting with Maldwyn as 'a really nice chap – a great privilege to meet him' . In his inimitable style Mal supervised the written account, insisting (kindly but with some asperity) on accuracy and coherence, before approving it by about the fourth draft! The account will be held in the 'West Wales Veterans Archive' which is projected to be accessible via the People's Collection in the National Library of Wales by the end of January 2020 if not before. A fitting final legacy from someone who gave so much of himself to others.
He was a dedicated family man and such a wonderful friend to so many of his former students and colleagues – we will all miss him greatly.
Rest in peace dear Mal.
Compiled by Dr Lynne Blanchfield (alumna UCW Aberystwyth 1977-1992) with contributions from Dr Gillian Rogers, Dr Carol Meale, Dr Simon Meecham-Jones, Dr Robin Young, Dr Susan Davies, Hugh Morgan (Age Cymru). Dr Jennifer Fellows is compiling a memorial conference paper in his honour.