Owen Price (1924-2012)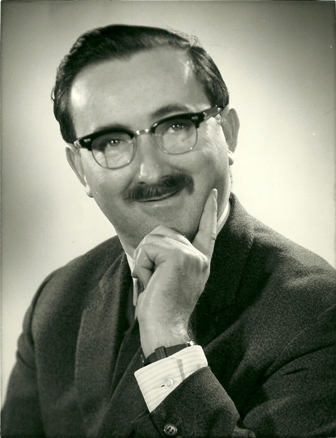 Owen Thomas Williams Price was born on November 21, 1924, the eldest son of farming parents in the Brecon Beacons. He intended to become a teacher, until he heard of courses in agricultural economics at Aberystwyth. This prompted an academic about-face as he became convinced that such studies would improve the livelihood of farming communities like the one in which he grew up.
He graduated in 1946 with a BSc with honours in agricultural economics. After working at the University for two years, Owen was awarded a Ministry of Agriculture research scholarship that enabled him to study at Lincoln College, Oxford and the University of Wisconsin. At Oxford, he was awarded his DPhil and he then studied at the University of Wisconsin for a Masters in land economics. Returning to Oxford, he obtained a second masters degree and spent three years lecturing in land economics at the Agricultural Economics Research Institute.
In 1953, he joined Imperial Chemical Industries (ICI) and participated in UK Government deliberations shaping national agricultural policy. As a result, he developed a strong belief in the European Movement and the potential benefits to the agricultural sector of joining the Common Market (now the European Union), a controversial view at the time.
While with ICI, he published widely in professional journals, and in 1967, moved with his family to Washington, DC where he joined the International Bank for Reconstruction and Development (the World Bank). In 1971, he was appointed Chief of the Commodities and Trade Division, Economics Department.
After heading the World Bank's office in Iran for four years, Dr Price returned to Washington in 1976 and was appointed Division Chief in charge of the General Agriculture Division for East Asia and Pacific. He was later appointed Chief of the Bank's Resident Mission in Indonesia where he supervised implementation of some 35 projects worth in total US$2.5 billion.
Owen was recognized for his bright mind and professionalism but he was also a loving family man. His later life was marred by the loss of his younger brother Geraint in 1974 and first wife Mair in 1977. His only child Lynne passed away in 2005, followed in 2008, by his second wife, Emily. During these difficult times, his brilliance was lost to dementia. His devoted sister Eluned cared for him during his final days. Owen Price died on 9 May 2012.
Owen will be remembered as a man full of life, with a spring in his step and a twinkle in his eye, proud of his accomplishments, proud of his family, proud of being a farm boy and proud of being Welsh. When asked about what it meant to be Welsh, one memorable quote was, "being Welsh means that Wales is part of you, part of your heritage, and is always part of your life." Now, in death, Owen has returned home to Wales, where he has joined his family in the country graveyard close to the farm where he grew up.
Robert Morris