Tan Sri Haji Shafie (1922-2010)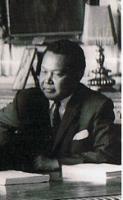 Tan Sri Haji Muhammad Ghazali bin Shafie (1922 – 2010)
Ghazali bin Shafie was one of a number of distinguished Aber aluni (and OSA members) who hailed from Malaysia. He was born on 22 March 1922 in Kuala Lipis, Pahang. He came to Aberystwyth to read law in 1949, and graduated in 1952. I first met him on the train from Paddington to Aber when I came up as a fresher in 1950. We soon discovered that we would both be living at Plynlymon, and Ghazali kindly offered advice and information about student and College life. It was kindly meant, and I didn't mention that I knew Aber well, having lived there as a boy, and had several relatives there, including the College librarian. It transpired that we would sit at the same table in the Plyn dining room, and with us was a compatriot of his – Mohammed Salleh bin Abbas – who also read law, and rose to be Lord President of the Supreme Court. Ghazali preserved the memory of his days in Plynlymon by giving his home in Malaysia the same name.
By the time I met him in 1950, Ghazali had already tasted adventure. He had joined the Civil Service before or soon after the Japanese occupation and became involved in the clandestine resistance to their regime. In 1945 he joined the Wataniah, a highly disciplined and efficient force formed by a British officer who was dropped by parachute in Ulu Pahang. The force was officered by several remarkable young Malay Administrative Service officers, one of whom was Ghazali, and another a future Prime Minister of Malaysia. One of their exploits was to waylay the Sultan of Pahang and take him into the jungle to ensure that he was not used by the Japanese as a pawn in the surrender negotiations. After the Japanese surrendered, and before British troops arrived, the Wataniah preserved law and order in Kuala Lipis and prevented the looting and civil disturbances that occurred elsewhere in Pahang.
While he was still a student tin Aber, Ghazali was selected for training as a future Foreign Service official. He continued his postgraduate work, reading for the bar at Lincoln's Inn. He then returned to Malaysia to re-enter the Civil Service, and rose to be Permanent Secretary in the Ministry of External Affairs. At one point he was Malaysia's High Commissioner in India. He was involved in the process of reconciliation with Indonesia, and was a member of the Council that worked for the restoration of parliamentary government after the Emergency in 1969.
In the following year, Ghazali entered politics, initially as a Senator in the Upper House, and later as a Member of Parliament. He served as Minister for Home Affairs and Information from 1973 to 1981, and Foreign Minister from 1981 to 1984. In the latter he was known for his role in ASEAN's diplomacy in respect of the conflict in Cambodia. He was described as a flamboyant politician and was given the nickname 'King Ghaz'. In 1982 he had the rare experience of reading a press report of his own demise, recalling Mark Twain's aphorism – 'the report of my death was an exaggeration'. His light aircraft got into difficulties during a short flight to his constituency, and crashed in the jungle some twenty miles from Kuala Lumpur, killing his flying instructor and his bodyguard, but miraculously sparing Ghazali.
Ghazali's contact with Aberystwyth was renewed when the University of Wales awarded him the degree of LLD honoris causa in 1983. The ceremony was held in the Great Hall on our campus. Ghazali was in fine form, and, flamboyantly as ever, had arranged for flowers to be flown in to decorate the hall. Our next meeting was in Kuala Lumpur in 1987, during a visit to discuss, among other things, the possible formation of a branch of the OSA there (which later bore abundant fruit). He came to Aber again in 1990 to receive a Fellowship of the University.
After he left politics, Ghazali held a number of positions in the corporate sector and with international organisations. Among his publications are several works which address some of the great issues of his time, such as the foundation of the state of Malaysia, the Indonesian problem, and Malaysia, ASEAN and the new world order.
He died at his home on 24 January 2010. His wife, Khatijah, died in April 2008, but he is survived by two sons.
The Malaysian connection continues. In recent years the OSA has elected two Malaysian presidents – our old friend Tan Sri Datuk Arshad bin Ayub, and, representing a younger generation, Fariz Abu Bakar.
Emrys Wynn Jones.