Waste Management and Recycling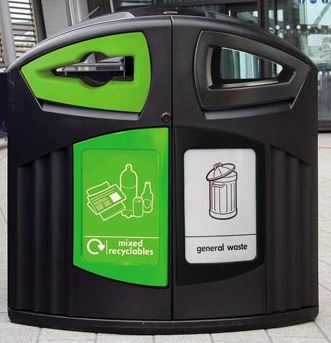 (Welsh versions of this webpage and associated pages available soon)
Aberystwyth University is striving for Towards Zero Waste Wales by 2027! A number of initiatives and behaviour change campaigns are being run throughout the University to help achieve this large target! Some of these include:
- Bin the Bin
- Love Food Hate Waste Cascade Training
- Green Impact
- WarpIt
- Charity Collection Points at the end of term
The Aberystwyth University Waste Management Policy was approved in 2015 and can be found Policy.
Please remember to always follow the WASTE HIERARCHY!
If you receive waste transfer notes/consignment notes as a result of your activities, please ensure you log these on the Waste Section of the Aberystwyth University Environmental Management System. You can request access to this system via the contact details below.
If your asset had an original value greater than £10 000, a Fixed Asset Disposal form must be completed and returned to the Finance Department before disposal.
Useful Contacts:
Property Services Team (PST): campushelp@aber.ac.uk
Campus Services (portering, cleaning and security): efastaff@aber.ac.uk
How do I dispose of my waste?!
Click on the tabs below for more information...
If you have a type of waste not listed below, please contact the Health, Safety and Environment Department on hasstaff@aber.ac.uk or by calling extension 2073. Please also contact your Department for any local procedures (e.g. disposal of laboratory glass in IBERS).
B
Waste Stream
Disposal Procedure
Destination of Waste
Batteries

There are battery deposit bins all around the Campus. For large (e.g. car) batteries, please contact campushelp@aber.ac.uk for disposal via the same procedure as electrical items.


Battery bin locations:

Edward Llwyd Foyer
Cledwyn Foyer
Physics Foyer
Llandinam Concourse
Hugh Owen A Floor
Hugh Owen Library Main Entrance
Hugh Owen Library E Floor
William Davies Foyer and Stores
Residential Laundry Rooms
PJM Learning Centre
Rosser Learning Centre

Recycled
Books

Text books: Students/staff may donate books to the library as per the policy. Please drop at drop at one of our libraries marked for donation. Students/ staff may also re-use books in the 'book swop' on level D of Hugh Owen Library, which is extremely popular.

Redistributed or Recycled
Bulbs
Log a job with campushelp@aber.ac.uk to collect waste bulbs. Waste bulbs are stored in purpose-built lamp banks for collection by a contractor.
Recycled
C
| Waste Stream | Disposal Procedure | Destination of Waste |
| --- | --- | --- |
| Cables | Electrical cables should be sent to the IS Workshop if no longer required. It should be indicated if these are for re-use or disposal. See 'Electrical Items'. | Recycled |
| Cans | Clean, dry and place in a dry-mixed-recycling bag. Collected by Campus Services on a regular basis. | Recycled |
| Cardboard | Cardboard can be placed in dry, mixed, recycling bins | Recycled |
| CD/DVDs | Should be wiped of data and sent to the IS Workshop for disposal as waste electronical equipment. It should be indicated when sent to the workshop that these are for disposal. There are also waste electronical disposal bins across the campuses. See 'Electrical Items'. | Recycled |
| Clinical | See 'Hazardous Waste'. | Various |
| Compressed Gas Cylinders (LPG) | Collected by the supplier | Recycled/Reused |
| Compressed Gas Cylinders (Non-LPG) | E.g. Helium. Refer to the material safety data sheet | Various |
| Confidential | Confidential waste should be shredded and placed into recycle bins. Alternatively, if there is a large quantity of material, confidential waste sacks are available on request from Campus Services. Digital confidential waste should be wiped as per IS FAQ #1587 | Recyled or Incinerated |
| Cooking Oil | Collected by a contractor. | Recycled |
E
| Waste Stream | Disposal Procedure | Destination of Waste |
| --- | --- | --- |
| Electrical Items | Waste electrical and electronic equipment (WEEE), is collected by Campus Services and disposed of via a contractor. Items should be stored securely and wiped of any data before collection for disposal. Please click WEEEto dispose of an item. | Reused or recycled |
F
| Waste Stream | Disposal Procedure | Destination of Waste |
| --- | --- | --- |
| Fluorescence Tubes | Log a job by emailing campushelp@aber.ac.uk or calling extension 2999. Waste bulbs are stored in purpose-built lamp banks for collection by a contractor. | Recycled |
| Food Waste | Food waste from Hospitality Outlets is collected by a contrator. There is an ongoing implementation programme to provide food waste caddies and a regular collection for all University Halls of Residences. | Anaerobic Digestion |
| Furniture | Any furniture which is still in a servicable conditon should be listed on WarpIt for redistribution. To arrange a collection of broken furniture, please contact Campus Services. | Reuse/Recycled |
G
Waste Stream
Disposal Procedure
Destination of Waste
General Waste
Collected by Campus Services on a regular basis.
Landfill
Glass

General use glass bins can be found at the following locations:

Underneath Cledwyn Bridge
Underneath International Politics Building Stairs
William Davies Car Park
Outside Carwyn James

Please contact campushelp@aber.ac.uk to arrange disposal of sheet glass. A glass skip is available for use by the Property Services Team.

All laboratory glass should be autoclaved before disposal and all Departmental procedures should be followed. Non-hazardous glass can be placed into the skip for recycling with prior agreement with Property Services Team via emailing campushelp@aber.ac.uk.


Hazardous glass (e.g. broken experiment beakers) should be stored safely and securely for a collection by a hazardous waste contractor. Please see Hazardous Waste.

Recycled
H
| Waste Stream | Disposal Procedure | Destination of Waste |
| --- | --- | --- |
| Hazardous Waste | For more information click Hazardous Waste | Various |
P
| Waste Stream | Disposal Procedure | Destination of Waste |
| --- | --- | --- |
| Paint (water-based) | Water-based paint should be fully dry before disposal. Paint skins should be removed from the tins before they are recycled and the skins placed in general waste. If paint skins cannot be removed from the tins, the tin should be put into general waste. See Hazardous Waste for paints deemed hazardous (e.g. lead-based). | General waste and recycled |
| Phones | Data should be wiped from phones. They can be disposed of in waste electronics bins which are distributed throughout the campuses or sent to the IS Workshop labelled for disposal. See Electrical items. | Recycled |
S
| Waste Stream | Disposal Procedure | Destination of Waste |
| --- | --- | --- |
| Scrap Metal | Should be stored in a safe and secure place and an appropriate, licenced contractor is procured for a collection of scrap metal. It is worthwhile communicating with other Departments to check if there are any scheduled scrap collections. | Recycled |
V
| Waste Stream | Disposal Procedure | Destination of Waste |
| --- | --- | --- |
| Vehicles | For vehciles unsuitable for redistribution they should be disposed of by procuring an authorised treatment facility (often a scrapyard or breakers' yards). Ensure all necessary paperwork is completed. | Recycled |
W
| Waste Stream | Disposal Procedure | Destination of Waste |
| --- | --- | --- |
| Wood | There is a wood skip where waste wood is collected for recycling and emptied by a contractor. If you require the disposal of wooden products, please contact campushelp@aber.ac.uk to confirm disposal requirements. | Recycled |