Aberystwyth student gets a Bronze at Equine Student World Finals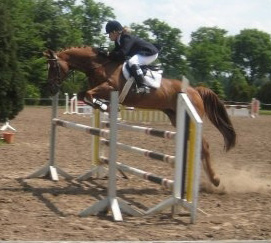 Aberystwyth MSc Equine Science student Bea Meitiner came back from the SRNC (Student Riding Nations Cup) World Finals held in Luxembourg at New Year with a team and individual bronze medal.
The team representing Great Britain included Rebecca Stephens from Robert Gordon University, Fiona Davidson, a graduate from Hartpury College and Bea Meitiner, from Aberystwyth University. It is tradition to hold a World Finals Cup every year over the New Year, and this year it was held in a beautiful location on the outskirts of Luxembourg city. The centre provided top quality horses for this important event allowing for a very high standard of riding.
Individually Bea came 8th in the dressage and 11th in the show jumping allowing her to secure the bronze medal overall. This was a brilliant end for a very successful year which included a double gold at the Germany SRNC. Since returning the GB team are on top of the world after taking the World Number1 ranking for show jumping and number 2 for dressage.
Hannah Westropp, equestrian chairman for the British Universities and Colleges Sports (BUCS), said: "After a clean sweep of wins over the four Student Riding Nations Cups across the World in 2008, the British squad had gained an unassailable lead before the World Finals in Luxembourg, in December 2008, where once again they were the lead nation".
Bea would like to take this opportunity to thank the instructors of the university's equine centre, in particular Carol Green, for all their support and encouragement, as well as her sponsors, Celtic Equestrian and Morgan Jones Horseboxes for making it all possible.
Further information
Student Riding Nations Cups (SRNC's) are competitions on borrowed horses for higher education students that combine dressage and show jumping.
Bea Meitner can be contacted at dnm@aber.ac.uk
Aberystwyth University is the longest established provider of equine courses and runs courses in Equine Science, Equine and Human Sports Science and Equine Studies at HND, Foundation Degree, BSc and MSc levels. For more information look at http://www.aber.ac.uk/en/ibers/