Chromosomes without Genes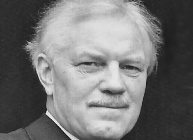 Professor Hubert Rees FRS DFC
On Monday 13 December 2010, Professor Neil Jones will give the 1st Annual Lecture in memory of Professor Hubert Rees FRS DFC entitled "Chromosomes without Genes".
The lecture will be held in the William Davies Conference Room, Gogerddan Campus at 4pm, to be followed by refreshments.
Speaking ahead of the lecture Professor Jones said:
"It could be considered as heresy to speak about chromosomes without genes, but this is a topic of chromosome genetics that myself and Prof. Rees worked on together for many years, beginning with my PhD; and it seems highly appropriate to deal with this subject in this first Memorial Lecture.
"What does it mean to have chromosomes without genes? To date we have no options but to believe this story, since this is known to be the case in thousands of species of plants and animals which posses supernumerary chromosomes, which they can do better to be without. How can it happen that an organism can carry non-essential, and even harmful, chromosomes with no apparent useful functions? "
"The answer lies in the way that they are inherited, and the mechanisms which they have to balance their harmful effects by mechanisms of numerical increase from one generation to the next. In effect they are selfish chromosomes, which exist only to make more of themselves: one might even say they are parasites within the genome."
The lecture will give the background to the story, and will then discuss their occurrence, effects, modes of inheritance, new information on DNA sequence organisation and possible origin in the cereal rye, as a model.
Professor Hubert Rees FRS DFC
As well as being as being a leading British scientist Professor Hubert Rees, who died in September 2009, was a decorated wartime pilot. After graduating with a First Class Honours degree in Agricultural Botany in 1950 his first appointment was as Lecturer in Cytology at the then newly-formed Department of Genetics at Birmingham University. In 1958 he returned to Aberystwyth following his appointment as Senior Lecturer in Agricultural Botany. He went on to become Professor and Head of Department, was appointed Vice Principal in 1983 and retired in 1991. He was elected a Fellow of The Royal Society in 1976.