Sport and Exercise Science students head to Japan.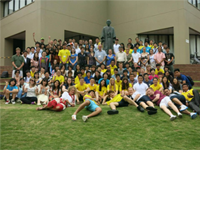 We [Daiwa Anglo-Japanese Foundation] are very pleased to have received an update from Dr Joann Hudson, and there seems to have been a lot going on.
She writes that:
"The partnership between Dr Joanne Hudson and Dr Guido Geisler has been very active to date with exchanges of staff and students between Aberystwyth University in Wales and the University of Tsukuba in Japan. Dr Hudson and Dr Emily Oliver visited the University of Tsukuba in July 2011 to initiate the partnership and the research project, meet with staff and deliver a scientific research seminar within the Institute of Health and Sport Sciences. In July 2012, two postgraduate students from Aberystwyth University attended the International Tsukuba Summer Institute 2012 and Dr Geisler and Dr Yusuke Kuroda visited Aberystwyth University in December 2012. This facilitated further development of the research project and a similar scientific research seminar was delivered to staff and research students within the Department of Sport & Exercise Science. A second cohort of students from Aberystwyth attended the International Tsukuba Summer Institute 2013 in July, including two postgraduate and two undergraduate students. Work on the research project is on-going with involvement of postgraduate and undergraduate students as part of their extracurricular research experience."
We hope that this project continues to be fruitful and that the links engendered by this project between Aberystwyth University and the University of Tsukuba continue to strengthen.