Fascinated by plants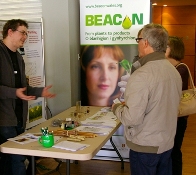 Event activities underway in the Arts Centre.
Events that celebrate plants took place all over the globe on 18th May, thanks to an initiative led by the European Plant Science Organisation (EPSO). , Research Scientist at IBERS and organiser of the event said, "Plants are fundamental to our existence, providing us with air we can breathe and food we can eat. I don't just mean fruit and veg; I mean almost everything we eat. We wouldn't have beef or lamb without grass and clover; there would be no chips without potatoes, no bread without cereals. Very few food sources exist without the help of plants.

"It doesn't stop there. Fuels, medicines, building materials, fibres and paper are made from plants and they deliver services such as flood control, as well as enhancing our recreational spaces. They are unbelievably important".
On 18th May the University Botany Gardens welcomed a steady trickle of visitors throughout the day. It provided the perfect environment for IBERS research and teaching staff to inform and entertain people with their knowledge of plants. There are about 250,000 species of flowering plants on earth including some that are truly weird and wonderful. Visitors saw a gigantic lily that gave off a scent like rotting flesh, attracting flies to act as pollinators. There were many different kinds of carnivorous plants that feed on insects, plants that mimic freshly laid butterfly eggs, sensitive mimosa that recoils when touched, not to mention some of our favourite plants, cocoa and coffee.
Visitors to the Arts Centre Theatre Foyer got stuck into making their own pigments from fruit and vegetables and observed how the colours could be altered by addition of weak acid (vinegar) or base (bicarbonate of soda). Superb tuition from artist Becky Knight helped children and adults to produce an incredible series of paintings. Images captured on camera can be viewed here.
More than 80 pieces of plastic were made on the Products from Plants display – plastic-making kept children captivated, while parents discussed the the pros and cons of biofuels. There was a fascinating display about cereals, their weeds and food, and to round things off, visitors were encouraged to extract DNA from spring onions, learning that genes encoded by DNA are selected in plant breeding.
Dr Hofer added, "Plants are fascinating. We want to share the amazing world of plants with a wider audience, and engage in discussions about how plant sciences are helping to address global challenges, from food security to energy "We hope that Fascination of Plants Day will inspire people to appreciate the importance of plants and to understand the relationship between plants and a healthy population."