IBERS PhD students impress External Advisory Board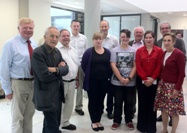 Winners of Best Poster Presentation (Magda Dudek, Laura Lyons and Eleri Price) are pictured with Prof. Paul Shaw and members of the EAB: from left, Mr Timothy Brain, Prof. J Steve Jones FRS, Dr Jim Peacock FAAS FRS FAATSE COA, Mr Steve Visscher CBE, Mr John Lloyd Jones, Prof Richard Flavell FRS and Dr Barbara Mazur.
Second and third year PhD students recently gave a poster presentation for the External Advisory Boards' annual visit. During a 2-hour session on the 4th September, the students demonstrated the breadth and depth of postgraduate research being conducted within the institute, and three awards for excellence were made by the EAB team.
Afterwards, all members of the EAB expressed how much they had enjoyed discussing science with our PhD students, and how impressed they were by the high standard of posters and the ability of the students to discuss their work.
The EAB Chair Prof. Richard Flavell summed up the students' performance as "the consistent quality shown by every one of the students in their poster presentation, particularly in the clarity of their explanation and understanding of the importance of their research".
The three winners of 'Best Poster Presentation' were: Magda Dudek who presented her work on "Microbes and enzymes for macroalgae and plant biorefining" (Supervised by Joe Gallagher); Laura Lyons who presented her work on "Bioprospecting for Microorganisms and Enzyme Activities" (Supervised by Kerrie Farrar) and Eleri Price who presented her work on "Comparison of carcass and meat quality traits of crossbred lambs sired by rams selected for high and low muscle density" (Supervised by Prof. Nigel Scollan).
IBERS would like to thank the PhD students for communicating the high standards and professional approach of IBERS research, to such an experienced and important group of visitors.