Alumni Events
Below you will find information regarding events open to Alumni which complement the Centenary celebrations here at the International Politics Department, Aberystwyth University. We look forward to seeing you!
Interpol Alumni Crisis Game, May 3-5 2019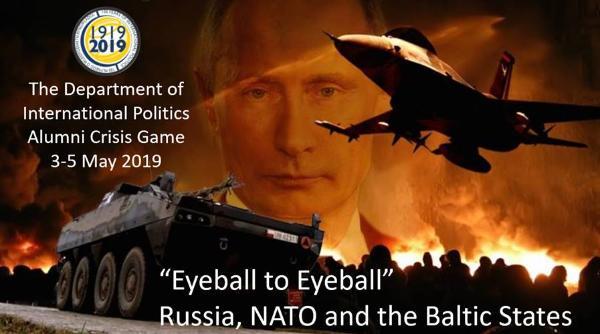 Interpol Alumni Crisis Game, 3-5 May 2019, Gregynog.
Widely cherished and remembered, the Interpol Crisis Game is perhaps the most vivid experience the students in the Department of International Politics go through. It is simply more than just a game!
In this Centenary year, we will be holding a unique Alumni Crisis Game in the wonderful setting of Gregynog, well-known to generations of students who have taken part in the game during their studies.
This will be a tremendous opportunity to reconnect with the fellow graduates and the Department, relive the memories, have fun and, of course, win!
You can pay to take part here: https://shop.aber.ac.uk/product-catalogue/digwyddiadau-events/interpol-alumni-crisis-game-2019/interpol-alumni-crisis-game-2019
The price includes 2 nights accommodation at Gregynog Hall - check in Friday 3rd May, check out on afternoon of Sunday 5th May. All meals included.
If you have any questions, please contact us
at ipcstaff@aber.ac.uk
Interpol Centenary Academic Conference, 17-19 June 2019
To celebrate the Centenary of the Department of International Politics, we will be holding the Centenary Academic Conference on 17-19 June 2019.
The theme of the conference is the work that has come out of the Department over the course of the past century. Specifically, we will be focusing on two main questions:
1) What have been, generally and/or with a view to your particular area of expertise, the most significant contributions articulated in the Department since 1919?
2) What of this work, and how, will continue to shape the discipline in the century ahead?
For full programme please see: Interpol centenary academic conference programme
(Presenters, please email your 150 word abstracts to ipcstaff@aber.ac.uk)
The conference fee will be £95 to cover costs. Please follow this link to register and pay:
Interpol Centenary Alumni Reunion, 21-23 June 2019
As we mark the Centenary of the Department of International Politics at Aberystwyth University, we are inviting former students, members of staff and friends of the Department to join our celebrations. The alumni reunion weekend running from Friday 21 to Sunday 23 June, will be the perfect opportunity to catch-up with old friends, classmates, and members of staff, relive memories of college life, find out about the great work going on in the Department today, and discuss its direction for the next hundred years. The weekend celebrations will begin on Friday evening 21 June 2019; continue with a full programme on Saturday culminating in a celebration dinner, and the chance to unwind on Sunday morning.
If you would like more information and to register your interest, please use the link provided here.