Vasily Grossman: Ruthless Truth in the Totalitarian Century
An Interdisciplinary Symposium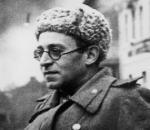 Saturday 10 September 2011, 9.00am – 6.00pm
St Peter's College, University of Oxford
This symposium will explore the life and work of the Soviet writer, dissident and war correspondent, Vasily Grossman (1905–1964). Grossman has lately emerged from relative obscurity thanks to new translations of his key works, including the epic novel Life and Fate, the unfinished Everything Flows, the short story collection The Road, his wartime notebooks, and his collaborative documentary history of the Holocaust in the Soviet Union. The purpose of this day is to showcase advanced specialist research on Grossman, and to forge links between those working in the diverse disciplines of History, Politics, Literature, Slavic Studies and Holocaust Studies.
The symposium is being held in connection with the BBC Radio 4 broadcast of a major new dramatisation of Vasily Grossman's epic novel Life and Fate. The BBC is organising a day of public events, discussions and talks preceding the symposium on Friday 9 September, also at St Peter's College Oxford. These aim to introduce Life and Fate to a wider audience and discuss the radio dramatisation, and they will include the recording of a special edition of Radio 4's 'Start the Week' programme with Andrew Marr. The BBC events are free, though tickets will be required for admission.
Grossman's work shows him to be a witness of unparalleled acuity and sensitivity to some of the central horrors of the totalitarian century, especially the Stalinist terror of the 1930s, the Second World War on the eastern front and the Holocaust. He is increasingly recognised as an important source by scholars working on these subjects, and on the wider themes of literary responses to trauma; witnessing and testimony; the collective memory of the Second World War and political dictatorship; and collaboration and resistance under totalitarianism.
Confirmed speakers at the symposium: Yury Bit-Yunan (Moscow); Robert Chandler (London); Alex Danchev (Nottingham); Laura Guillaume (Aberystwyth/Open); Wendy Lower (Munich); Giovanni Maddalena (Molise); Joshua Rubenstein (Amnesty/Harvard); Katia Shulga (London); Sarah J Young (London); and Polly Zavadivker (Santa Cruz).
Panel themes will include: the author and his audiences; Grossman and trauma; Grossman and the Holocaust; Grossman and philosophy.
The symposium is organised by the Department of International Politics, Aberystwyth University and St Peter's College Oxford, in conjunction with BBC Radio 4. The organisers would like to acknowledge financial support from Oxford University; the John Fell Fund, Oxford University; St Peter's College Oxford; the University Research Fund, Aberystwyth University; the Department of International Politics, Aberystwyth University; and the Centro Studi Grossman, Turin.
The symposium has now taken place and a copy of the final programme is available. Publication of the proceedings is planned. Please direct any inquiries to Dr Patrick Finney, Department of International Politics, Aberystwyth University: pbf@aber.ac.uk