Dr Berit Bliesemann de Guevara
PhD (Dr. rer. pol.) Helmut Schmidt University Hamburg; MSc (Dipl.-Pol.) Hamburg University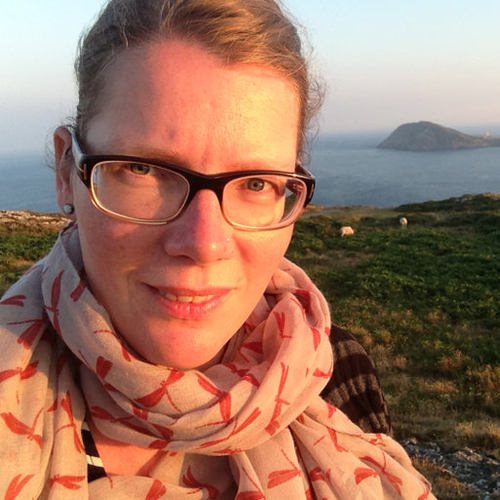 Profile
Dr Berit Bliesemann de Guevara is a Reader in international Politics, and the Founding Director of the Centre for the International Politics of Knowledge. She is currently on a research leave to lead the Newton Fund/AHRC/Colciencias project "(Un)Stitching the Subjects of Colombia's Reconciliation Process". She has served her Department as Deputy Head, Director of Research and Director of Graduate Studies.
Before joining Aberystwyth University in 2012, she held positions as Temporary Professor at Bremen University's Institute for Interdisciplinary and International Studies, and as Researcher and Lecturer at Helmut Schmidt University/University of the Federal Armed Forces Hamburg. She also worked as a Researcher in the project 'Who Governs? The Sociology of UN Administrations' at the University of Nottingham.
Berit co-edits the Nomos book series Zentrum & Peripherie. She is editorial board member of the Bristol University Press series Spaces of Peace, Security & Development; International Peacekeeping; Journal of Intervention & Statebuilding; Civil Wars; and the Routledge Studies in Intervention & Statebuilding.
She is a Fellow of the Higher Education Academy (since 2013), member of the AHRC Peer-Review College (since 2017) and the UKRI Future Leaders Fellowships Peer Review College (since 2018), a Steering Committee member of the Centre for International Development Research at Aberystwyth (CIDRA), and an alumni of the Welsh Crucible (2015).
She has been an invited Visiting Fellow at: Hugo Valentin Centre, Uppsala University (2017); the Research Group 'Wicked Problems, Contested Administrations: Knowledge, Coordination, Strategy' (WIPCAD), Potsdam University (2015); the Uppsala Forum for Peace, Democracy and Justice, Uppsala University (2015); Hanse-Wissenschaftskolleg (HWK) Institute for Advanced Study in Delmenhorst and the Bremen International Graduate School for the Social Sciences (BIGSSS), University of Bremen & Jacobs University Bremen (2014-15); Centre for International Relations (QCIR), Queen's University, Kingston/Ontario (2010).
Additional Information
POLITICAL ART EXHIBITIONS
In 2019, as part of the project "(Un-)Stitching the Subjects of Colombia's Reconciliation Process", Dr Berit Bliesemann de Guevara together with Prof Beatriz Arias and the research team curated and organised several exhibitions of textile books by former FARC combatants, their relatives and neighbours in San José de Leon, Apartadó, Dabeiba and Medellin. See more here.
In 2017, Berit commissioned the exhibition "Stitched Voices" at Aberystwyth Arts Centre and, together with a team of InterPol PhD students, organised an extensive events and engagement programme in connection with the exhibition. The team included Christine Andrä, Lydia Cole and Danielle House. The team's experiences in organising a conflict textiles exhibition can be read here. "Stitched Voices" has subsequently been shown in Birmingham and Uppsala.
In 2012, Berit co-organised the exhibition and workshop "The Art of Survival: How societies deal with political violence" at Hamburg University, Germany.
AWARDS
2019 Best Paper Award, Interdisciplinary Studies Section, (IDSS), International Studies Association Annual Convention, Toronto, with Roland Kostic (Uppsala)
2017 Welsh Crucible/Learned Society of Wales Prize for the Best Collaborative Project 2011-2015, with Sofia Gameiro, Elisabeth El Refaie and Alida Payson (Cardiff)
2009 German Studies Award, a national award for the most relevant PhD thesis of the year, Körber Foundation
2003 Women's Masters Dissertation Award, Faculty of Social Sciences, Hamburg University
Teaching
Current PhD supervisions
Faten Jaballah
Dylan Marshall
Suzanne Klein Schaarsberg
Louise Ridden
Completed PhD supervisions
Dr Jana Wattenberg (2019)
Dr Christine Andrä (2019)
Dr Alistair Markland (2018)
Dr Desiree Poets (2018)
Dr Adhemar Mercado Auf der Maur (2018)
Dr Thomas Marshall (2016)
Dr Tomas Kucera (2014)
Research
Dr Berit Bliesemann de Guevara is Director of the KNOWLEDGE Centre, a central research hub in the Department developing research which revolves around the dynamics and challenges of knowledge in and about international politics.
Berit's current research agenda, in which she partly employs arts-based research methods, is centered on qualitative studies in three interrelated areas:
Knowledge in/about conflict and intervention
Networks in peacebuilding
Unarmed civilian peacekeeping/protection (UCP)
CURRENT PROJECTS
2019-20 (GCRF Development Award): Creating Safer Space - Building Networks and Knowledge Bases for Civilian Protection
2019-20 (CIDRA Seed Grant): Nonviolent local self-/protection in the midst of conflict and displacement in Southeast Asia
2019-20 (CIDRA Seed Grant): Practices of care and empowerment of peasant women in rural areas of the department of Antioquia
2018-20 (Newton Fund / AHRC / Colombian Research Council): (Un-)Stitching the Subjects of Colombia's Reconciliation Process
PREVIOUS PROJECTS
2016-18 (AHRC-PaCCS): Raising Silent Voices: Harnessing local knowledge for communities' protection from violence in Myanmar
2016-18 (ESRC seminar series): From Data to Knowledge: Understanding peace and conflict from afar
2016-17 (Welsh Crucible): Borrowed Truths: Exploring transfers of expertise & evidence across science, justice & politics
2016 (Welsh Crucible): Travel Broadens the Mind: How field trip experiences impact political perceptions
2016 (Welsh Crucible): Using comics workshops to investigate & disseminate the infertility experiences of BME women in Wales .2015-16: Myth and Narrative in International Politics (book project)
2012-14 (German Research Foundation - DFG): Knowledge Production in Conflict: the International Crisis Group
2010 Political charisma (public lecture series & book project)
2009-10 (Körber Foundation): Illusion Statebuilding: Comparing statebuilding projects in Bosnia-Herzegovina and Afghanistan
2003-08: Stateness in Times of Statebuilding (PhD project)
Publications
Bliesemann de Guevara, B
& Arias Lopez, B 2019,
Biographiearbeit und Textilkunst am Beispiel des kolumbianischen Friedensprozesses
. in G Franger (ed.),
Alltag, Erinnerung, Kunst, Aktion: Rück Blick Nach Vorne.
Nürnberg, pp. 50-53.
Bliesemann de Guevara, B
, Julian, R & Redhead, R 2019, '
From Expert to Experiential Knowledge: Exploring the Inclusion of Local Experiences in Understanding Violence in Conflict
'
Peacebuilding
, vol. 7, no. 2, pp. 210-225.
https://doi.org/10.1080/21647259.2019.1594572
Bliesemann de Guevara, B
& Kostic, R 2019,
Knowledge, expertise and the politics of intervention and statebuilding
. in N Lemay-Hebert (ed.),
Handbook on Intervention and Statebuilding.
Edward Elgar Publishing, pp. 19-29.
Andra, C
& Bliesemann de Guevara, B
2019, '
Konflikttextilien: Analytischer, ästhetischer und politischer Stoff für Friedensforschung und -arbeit
'
Wissenschaft und Frieden
.
More publications on the Research Portal