Dr Berit Bliesemann de Guevara
PhD (Dr. rer. pol.) Helmut Schmidt University Hamburg; MSc (Dipl.-Pol.) Hamburg University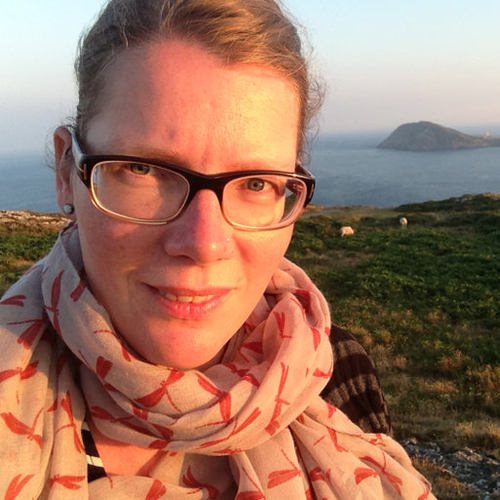 Profile
Berit Bliesemann de Guevara is a Professor in International Politics and Founding Director of the Centre for the International Politics of Knowledge.
Before joining Aberystwyth University in 2012, she held academic positions at Bremen University, Germany; Helmut Schmidt University/University of the Federal Armed Forces Hamburg, Germany; and as a researcher in the project 'Who Governs? The Sociology of UN Administrations' at the University of Nottingham. She was also a Visiting Fellow at Uppsala University, Sweden; Potsdam University, Germany, and Bremen University/Hanse-Wissenschaftskolleg Institute for Advanced Studies, Germany.
Berit co-edits the Nomos book series Zentrum & Peripherie. She is editorial board member of the Bristol University Press series Spaces of Peace, Security & Development; International Peacekeeping; Journal of Intervention & Statebuilding; Civil Wars; and the Routledge Studies in Intervention & Statebuilding. She is a Fellow of the Higher Education Academy, member of the AHRC Peer-Review College and the UKRI Future Leaders Fellowships Peer Review College, a Steering Committee member of the Centre for International Development Research at Aberystwyth (CIDRA), and alumna of the Welsh Crucible (2015).
Pronouns: she / sie / ella
Additional Information
Teaching
Module Coordinator
Coordinator
Tutor
Lecturer
Prof Berit Bliesemann de Guevara is currently on a research leave to lead the Newton Fund/AHRC/Colciencias research project "(Un)Stitching the Subjects of Colombia's Reconciliation Process".
Berit supervises PhD projects and mentors post-doctoral research fellows in the following broad areas:
Interpretive studies in international politics
Peace and conflict studies
Peacebuilding, statebuilding, post-war transformation
Unarmed civilian peacekeeping/protection
Knowledge and expertise in international politics
Nonviolence in international politics
See her Research Portal Profile for more information on currently and previously supervised PhD projects (click "Supervision" and "Theses").
Since 2013, Berit has been a Fellow of the Higher Education Academy (HEA).
Research
Prof Berit Bliesemann de Guevara is Principal Investigator of a number of current funded projects, including:
See the Research Portal for more information on her current and past research projects.
Berit's current research interests include:
Interpretive studies of international politics
Unarmed civilian peacekeeping/protection / nonviolence in international politics
Knowledge in/about conflict and intervention
Networks in peacebuilding interventions
Arts-based research methods (esp. textile making and drawing)
Berit is Co-Director of the KNOWLEDGE Centre, a central research hub in the Department developing research which revolves around the dynamics and challenges of knowledge in and about international politics.
Responsibilities
Prof Berit Bliesemann de Guevara has held positions as Deputy Head, Director of Research and Director of Graduate Studies at the Department. Currently she is the departmental Research Impact Officer.
Since 2016, Berit has mentored a number of Research Fellows at the Department, whose projects have been funded by the Economic and Social Research Council (Dr Katarina Kušic), the EU Horizon 2020 Marie Sklodowska Curie Action (Dr Katarzyna Kaczmarska, Dr Andrea Warnecke), the Estonian Research Council (Dr Birgit Poopuu), and the Swedish Research Council (Dr Anna Danielsson). Two further Marie Sklodowska Curie Fellows (Dr Beatrix Futak-Campbell, Dr Sonia Garzón Ramirez) have started in autumn 2020.
Publications
Bliesemann de Guevara, B
& Krystalli, R 2021, '
Doing memory with needle and thread: Narrating transformations of violent conflict
',
Contemporary Voices
.
Bliesemann de Guevara, B
, Refaie, EE, Furnari, E, Gameiro, S, Julian, R & Payson, A 2021, '
Drawing Out Experiential Conflict Knowledge in Myanmar: Arts-Based Methods in Qualitative Research With Conflict-Affected Communities
',
Journal of Peacebuilding and Development
.
https://doi.org/10.1177/15423166211015971
Julian, R
, Bliesemann de Guevara, B
& Redhead, R 2021,
From expert to experiential knowledge: Exploring the inclusion of local experiences in understanding violence in conflict
. in L McLeod & M O'Reilly (eds),
Feminist Interventions in Critical Peace and Conflict Studies.
Taylor & Francis, pp. 82-98.
Bliesemann de Guevara, B
& Goetze, C 2021,
International Political Sociology of Peacebuilding
. in G Visoka & OP Richmond (eds),
The Oxford Handbook of Peacebuilding, Statebuilding, and Peace Formation.
Oxford University Press.
More publications on the Research Portal