Student Profiles
‌
Akos Erzse, BA International Politics with Intelligence Studies
There were two reasons I decided to study at Aber - the Department is the oldest in the world, established in 1919, and its prestigious reputation reached me even before I began thinking about studying in the United Kingdom. Nonetheless, I became absolutely sure of my decision after I spent a couple of days here with a good friend of mine.

During my first year, I was introduced to the basic concepts and ideas of international and domestic politics. I read the works written by some of the most important political thinkers, past and present; and enriched my knowledge on issues such as postcolonialism and gender.
The true fun began in second year ...... read more ...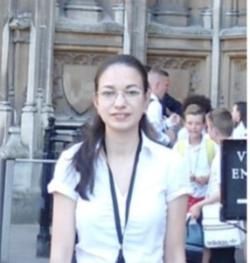 Trayana Vladimirova, BA International Politics and Law
When I found out about Aberystwyth, I knew straight away that this was the place for me. I didn't have the luxury of actually coming and seeing the place – I judged the department purely on its academic reputation and on the prospectuses, which proved remarkably correct.
Later on, I applied for an entrance scholarship which I'm now a very proud holder of Aberystwyth's excellent academic reputation in International Politics, coupled with the range of scholarships it offers defined my choice, which I don't regret.
What I enjoyed about the department is its flexibility. You can combine your major in InterPol with a variety of subjects – from law and economics to different foreign languages, or you can opt for a joint honours degree. Although your degree is in your own hands, you get a lot of help along the way. Everyone in the department always welcomes you with a smile and is ready to help. You always get very prompt feedback on your coursework and exams, so you know what you've done well in, what you need to improve on and why you have been marked in a certain way. Read more ...