Hugh Owen Library Iris De Freitas Room refurbishment
Between end of May and November 2019, Information Services will be refurbishing the Iris de Freitas Room on Level E of the Hugh Owen Library. We have already consulted with users of this space through a survey, suggestions board and 1-to-1 interviews, about their thoughts on the space and have taken their comments and suggestions into consideration. Key findings from engagement with users were:
More study rooms
Power sockets
Vending machines

Comfortable furniture

Better lighting
Plants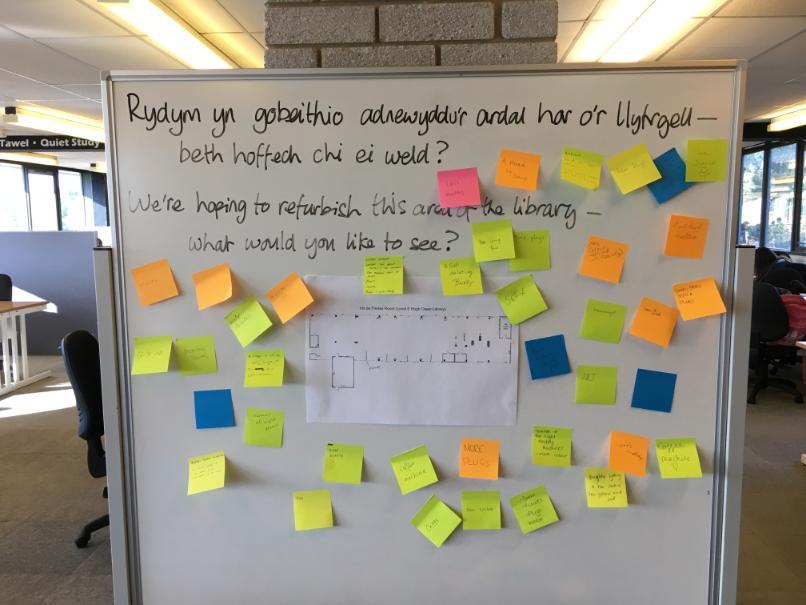 Work will start on the refurbishment immediately after the last Semester 2 exam, from 13:00 on Wednesday 29th May and we expect to re-open the space on the 4th November 2019. During this time there will be no access at all to the Iris de Freitas Room. Access to other areas of the library will be unaffected. The route from the south entrance to Level D of the Hugh Owen Building to the Level E foyer and the access route to the Parry Williams building and back of Arts Centre could be affected for some periods of time – we will provide details closer to the time of the works.
The refurbishment work will result in a far more inviting and attractive space for users. We will be adding additional group study rooms. Bespoke training/events space in the Hermann Ethé Room and a small vending area is planned. Furniture and décor will be updated, and ventilation and lighting will be improved.