International Women's Day 2018 - Highlighting and celebrating the contribution of early Aberystwyth University women
The Hugh Owen and Thomas Parry libraries will have a display celebrating early Aberystwyth University women and the roles they played in making Aberystwyth University what it is today. These displays will include women who first studied at Aberystwyth University as well as our first female Principal, along with influential women who studied at the University. Scroll down to find out more about some of the women who we are celebrating for their contribution to Aberystwyth University in academia and beyond.
First Female Student

The first woman to join the University College of Wales was Louise Davies. After winning an entrance exhibition, she joined the College in 1884 aged 16. For about 3 months she was the only woman in College, until others began to join her.
First Female Graduate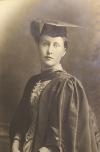 The first woman graduate with a degree from Aberystwyth was Mary Louisa Carter.
Professor, Head of Department and Acting Principal
Lily Newton is an important member of Aberystwyth staff. Not only was she the first female professor and Head of Department at Aberystwyth (1930), but she became acting Principal after the death of Ifor Evans in 1952. She taught Botany and eventually retired from the College in 1958. For more information on Lily Newton click on the following link: International Women's Day
Halls of Residence
Aberystwyth was the first University to open a female Hall of Residence – Alexandra Hall, named after Princess Alexandra who officially opened the halls in June 1896.
A room in Alexandra Hall: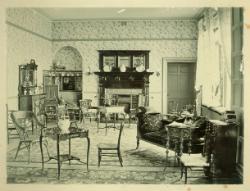 Equality by Charter
The 1896 Charter of the University makes it clear that equality is a key part of Aberystwyth's mission:
"Women shall be eligible equally with men for admittance to any Degree which the University is by this Our Charter authorized to confirm. Every office hereby created in the University and the membership of every authority hereby constituted shall be open to women equally with men".
Scarcely… authentic students?
Although the standard histories of the College name Louise Davies as the first female student, there had actually been women studying at Aberystwyth since 1875 in the Music department. These women studied under Joseph Parry (who is famous himself for composing the Welsh tune Myfanwy).
These women have been overlooked by historians of the College, including Dr E. L. Ellis who wrote the 1972 history of the institution:
"Of course, there had been women part-time students of Music in Joseph Parry's day, but they were scarcely regarded as authentic students"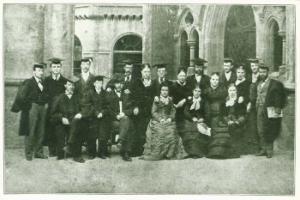 In 1874, two women, Kate Rees and Lizzie Edwards (both from Aberystwyth), studied music at the College. Above is a picture of the women from 1875-6 and we are able to put some names alongside the picture:
Hattie Davies, Cardiff
Maggie Edwards, Ffestiniog
G Griffiths, Llanberis
Mary Jones, Aberystwyth
Nellie Owens, USA
Annie Williams, Cardiff
Cordelia Edwards, Barmouth
We don't know which of these faces match the names – if you do, please let us know.
International Women's Day - Highlighting and celebrating the contribution of Aberystwyth University women in academia and beyond
Florence Gwendolen Rees, (3rd July 1906- 4th October 1994) was a Welsh zoologist and parasitologist, who successively held positions at Aberystwyth University of Assistant Lecturer, Lecturer, Senior Lecturer, Reader and Professor, becoming Professor Emeritus in 1973. She became the first Welsh women to become a fellow of the Royal Society, and was also elected Fellow of the Institute of Biology. She was the Vice-President and President of the British Society for Parasitology and published 68 original research papers, as well as training many students.
Marie Breen Smyth is an academic author, teacher and researcher from Northern Ireland, and was a Reader in International Politics and Director of the Centre for the Study of Radicalisation and Contemporary Political Violence at Aberystwyth University. She currently edits the Routledge journal Critical Studies on Terrorism, and has published multiple papers and books concerning the Northern Ireland conflict, particularly the impact of trauma, victim politics and religion and conflict, as well as writing on political violence in Southern Africa, and the Israel/Palestine conflict. She is also involved in the 'Healing through Remembering' project, which is designed to consider how Northern Ireland might deal with its past, and her latest book deals with the subject of truth recovery from biased ‌history.
Dr Mary Elizabeth King is a professor of Peace and Conflict studies at the UN-affiliated University of Peace, and holds a doctorate in International Politics from Aberystwyth. Dr King participated in the 1960s civil rights movement in America and played a vital role in ensuring the reporting of atrocities committed against black citizens, and creating public and national awareness of the SNCC (Student Nonviolent Coordinating Committee). She has also co-authored papers on sexism and the unequal treatment of women in the civil rights movement. Together with her husband, she bought a farm in Tregaron in the 1970s with the largest flock of Llamas in the UK, but still participates in many academic groups focusing on human rights and equality, and is part of a group of 200 academics worldwide trying to get Peace Studies taught and learned.
Tavi Murray is a glaciologist, and one of only 8 women to have been awarded the Polar Medal. She gained a first class honours degree in Physics and Computer Science from Aberystwyth in 1990. She has been a lecturer, Reader and Professor of Glaciology at the University of Leeds, and later at Swansea University. She is at the forefront of research in one of the most pressing current topics of debate; that of climate change, and is particularly interested in glacier flow and the extent to which glaciers are contributing to the rise in global sea levels, with field projects being conducted in the Arctic, Antarctic and the most glaciated regions of the world.
Professor Christine James is a Welsh poet and academic, and the first women to hold the title of Archdruid of Wales. She gained a first-class honours degree in Welsh, and a PhD for a thesis on the Laws of Hywel Dda, and has won multiple literary prizes at the National Eisteddfod. She is currently a professor in the Department of Welsh in Swansea University, and is an elected Fellow of the Learned Society of Wales and of the Academi Gymreig.
Shân Cothi is a Welsh classical singer, presenter and actress who graduated in music and drama from University of Wales, Aberystwyth, and has been honoured with fellowships from Aberystwyth and Lampeter. She has performed in venues from the Millennium Stadium to Hong Kong, won a BAFTA award for her own television series, and going on to act in Con Passionate, a Welsh language television drama, which also won several BAFTAs and first prize at the Rose d'Or awards.
Sharon Maguire is a Welsh film director whose major success came when directing Bridget Jones' Diary. She studied English and Drama at University Wales Aberystwyth, and went on to do the PGCE teaching qualification. She is quoted as saying "It always breaks the ice at parties when I'm with Oxbridge types and I brag: 'I went to Aberystwyth!'"
As noted recently in Aberystwyth News, Dr Hannah Dee, a Computer Science lecturer here in Aberystwyth has been named by Computer Weekly as the tenth most influential woman in UK computing. Her research areas are computer vision for the analysis of human behaviour, the detection of shadows and reasoning about shadows, and student attitudes to the study of computer science.
Contact for this page:
Information Services, Aberystwyth University, Hugh Owen Library, Penglais, Aberystwyth, SY23 3DZ
Tel: 01970 62 2400 Fax: 01970 62 2404 Email:
is@aber.ac.uk