Lluest Equine Centre
This purpose built teaching facility is situated on Aberystwyth University's Llanbadarn Campus.
There are 20 stables available for DIY livery at the Equine Centre. Grazing paddocks are within close proximity to the stables, all are well fenced and easily accessible.
Facilities
Facilities include:
International-sized indoor arena (60x30m with a combi-ride waxed surface)
International-sized outdoor arena (60x30m combi-ride sand and fibre mix)
4-horse horsewalker and round pen
Loose boxes and demonstration boxes
A full set of show jumps with fillers
Dressage boards (20x40m or 20x60m)
Study & Training
The Centre is a British Horse Society (BHS) 'Approved Centre'. Students have the opportunity to train towards BHS qualifications in Horse Care and Equitation from BHS Stage One through to BHSll (Intermediate Instructor), which includes the BHS Stage 4.
Training is available with BHS qualified staff for liveries and students from any scheme. As the University owns their own horses, we can offer lessons on these horses or your own.
As well as training you may want to compete. Aberystwyth University competes in British Universities and Colleges Sport (BUCS) competitions. These competitions are equitation themed and include a dressage test and jumping rounds on unknown horses.

Search the AU course Finder for available undergraduate and postgraduate equine courses.
DIY Livery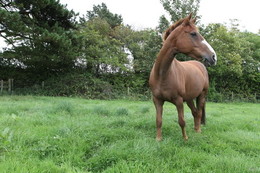 All Aberystwyth University students are eligible to apply for DIY livery. (Livery is subject to availability and a waiting list will be held if necessary).
Livery is open to any student studying on any scheme.
Liveries have the opportunity to take part in competitions and clinics held at Lluest Equine Centre (at an additional cost).
BHS qualified staff are available for training.
All students that have livery at Lluest Equine Centre must have third party public liability insurance and the horses must have up to date influenza and tetanus vaccinations.‌
Livery fees at Lluest Equine Centre are based on the bedding option chosen:
Chopped straw (Supplied by Gower Granary) - £65.00 (inc VAT) per week
Shavings - £70.00 (inc VAT) per week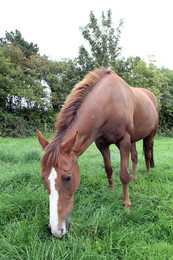 Livery Includes
Stabling (12ftx12ft)
Turnout in small groups- this is restricted in bad weather
Tack & storage facilities
Riding facilities (indoor & outdoor arena)
Horse walker
Bedding

Bedding allowance: Maximum of 5 bales to start the bed and a maximum 2 per week thereafter. Any extra bales must be bought from Lluest Equine Centre.

Forage - hay
Turn out pens
2x Drimee Ultra solariums
Wormers/worm counts are charged three times yearly.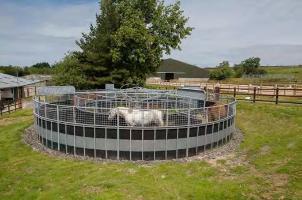 Full Livery is only available during holidays or by arrangement with the yard manager. Limited Availability at £150.00 per week (this fee is additional to the basic livery fee of £65.00/ £70.00 per week)

If you are interested in DIY livery or have any questions, please contact Jennifer Lawrence at jel27@aber.ac.uk.
Please note that the Equine Centre Manager reserves the right to consider each livery application and refuse acceptance of any animals if deemed unsuitable.
Equine Centre Events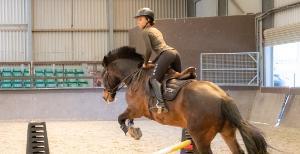 Weekly activities are held from September to June; these include dressage and showjumping competitions, as well as lecture demonstrations and the annual Equine Reproduction Colloquium (CFER).
Details of all Lluest Equine Centre events can be found on our events page.
Find us