Tax knowledge within companies: new study funded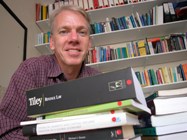 Professor Kevin Holland
Tuesday 4 July, 2006
Tax knowledge within companies: new study funded
Professor Kevin Holland from the School of Management and Business at the University of Wales, Aberystwyth is to lead a new study into how companies develop and utilise tax knowledge. The work is being funded by the Association of Chartered Certified Accountants (ACCA).

The aim of the project is to provide practical recommendations to improve the transmission of tax policy changes to appropriate decision makers within organisations without the creation of additional compliance costs. It is envisaged that such recommendations will have implications for both companies and government agencies.

Working with Professor John Hasseldine from the University of Nottingham, Professor Holland will look in particular at how the frequent changes in tax legislation and practice are captured by companies and distributed internally amongst decision makers.

"Frequently these individuals are located outside of the finance function," he said. "For example recent developments in taxation were designed to influence decisions in such diverse areas as research and development, and employee remuneration and benefit packages whilst more established provisions can influence asset structure, production location and organisational form related decisions. Effective tax management therefore requires tax knowledge to be distributed across companies in such a way that it informs decision makers without inhibiting innovation," he added.

The study will use a variety of research methods including a series of interviews with companies, tax advisers and other interested parties. The company interviews will involve individuals from a range of functional areas including: taxation, human resource management, operations and research and development. Within each company it is envisaged that three interviews of approximately one hour each will be sufficient, although the exact format will vary across firms dependent on their internal structure.

The researchers are keen to obtain the views of a wide range of companies including quoted firms and SMEs irrespective of industry classification. Normal confidentiality provisions will apply ensuring that interviewees' responses are not disclosed within their firm or in the publication of results in such a way that the individual or company can be identified. Companies who would like to participate in the interview process or would like further information about the study should contact Kevin Holland at The University of Wales, Aberystwyth or John Hasseldine University of Nottingham..