Former student honoured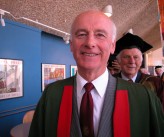 Vernon Morgan
BSc (Cymru/Wales), PhD (Cantab),FREng, FInstP, FIEE
Introduced by Professor Neville Greaves
Barchus Lywydd, Mae'n fraint ac yn bleser gennyf gyflwyno yr Athro Vernon Morgan yn gymrawd o Brifysgol Cymru, Aberystwyth.
We live in the Age of Technology - tempted by mobile phones, the broad band internet, camcorders, GPS, dvds, iPods, computer games, affordable air travel, microwave cooking, even virtual reality - and that's because we want to be, accepting that what we want now eventually becomes necessity. Embedded in this catalogue of "must have" is the essential engineering that we now call electronic and which used to called electrical. Professor Vernon Morgan is one of Wales' most distinguished electronic engineers. Starting his career when radios and tvs were filled with valves, resistors, capacitors and cathode ray tubes, he has made creative contributions to the technological revolution that has replaced discrete electrical components with the integrated electronic circuits that now put a 100 million devices onto a single silicon chip – a tiny object you might easily loose if you dropped one in your car today. In fact you might well want to loose it in favour of the approaching GByte technology. Obsolescence is a curious but essential economic driver. It's like a Russian Doll; within each figurine are all the antecedents. Working back through the Russian Doll of Electronic Engineering you will find the original germanium transistor, the discarded thermionic valve and within these the concept of the lever – to switch, to select, to amplify, to reassemble with advantage – in a word the genesis of engineering. Originally levers were pieces of wood and pivots measured with fingers and elbows, but now engineering involves bunches of electrons and quanta of light representing numbers – digital replacing digits.
However it is sold to us, technology is not so magical as intensely practical. It derives from dedicated graft, the nitty gritty coming from painstaking research to characterise and refine materials and then manufacture at the right price. Being in at the start of the electronic revolution Vernon Morgan has seen it all, with seminal "contributions to the technology of semiconductors, taking things through to industrial devices" – this was the citation for his election to the Royal Academy of Engineering in 1996 and nicely describes his academic career, which began here in Aberystwyth in 1960. Starting in Old College down in the bay, he was the first Year 2 Physics cohort to occupy the award-winning Physical Sciences building here on Penglais campus, then, as now, the home of the "hard sciences". Once the basis of the "white heat of technology", now the "strategic disciplines" that the UK recognises as critical in meeting the challenges of globalization. These thoughts must have seemed a million miles away for undergraduates in Aberystwyth in the 60's with no trains on a Sunday and no pubs open either – not officially anyway. Vernon I know you remember this as a time for sailing and walking at weekends and studying Monday to Friday in what is still one of the most beautiful campuses in the UK. Aberystwyth is where you met your wife Jean who was studying History and Education – a fine contrast to Physics, and don't I know that too. Aberystwyth was also the place where you began a lifetime's dedication to ecumenical activities, starting with Catholic Society which you chaired, and which eventually led to your receiving the Papal Cross from the late Pope John Paul III in 2004, for "distinguished Service to Higher Education" - quite a different citation from the Royal Academy of Engineering but the one honour I guess you feel most humble about.
Aberystwyth led to Cambridge and the Cavendish where Vernon entered the awesome but eccentric laboratories in Free School Lane where Maxwell had established the basis of Electromagentism in the 19th century, where Rutherford split the atom in the 1930's, and where in 1960's work on new semiconductors was starting in the newly created Physics and Chemistry of Solids – a group which I myself joined a few years later to work on amorphous arsenic and where indeed one of our MPhys students graduating today is starting his PhD this September. There's a lot of déjà vue here – the ion implanter (behind Abe Yoffe's office), the irregular parquet flooring and the cavalier use of halogens (which together would never pass today's Health and Safety regulations), Abe's Christmas parties where you gained reputation by sinking a yard of ale in 12.2 seconds (a skill that must have originated from Aberystwyth weekends). Vernon Morgan then became a University of Wales Fellow at Cambridge and with Jean had the distinction of living in Newnam Cottage where the mighty Rutherford had lived 50 years before.
After Cambridge there was Harwell and Chalk River, the national nuclear laboratories of the UK and of Canada. I use the word "nuclear" to assist in its rehabilitation, but these were the laboratories where ion implantation had became serious business. Vernon was accelerating protons and alpha particles through millions of volts and measuring how much they scattered in the opposite direction – so-called Rutherford backscattering. Why was this useful, you might well ask? Well this was the experiment to detect where atomic defects in semiconductor crystals were located. Without understanding the science of defects the amazing control of semiconductor properties that has led to the technology we are all beginning to rely upon would never have been achieved. From Chalk River, Ontario, the Morgans moved to Leeds where Vernon obtained lectureship in 1970, crossing the Rubicon from Physics into Engineering. By 1978 he was a Visiting Professor at Cornell University and in 1992 Professor of Microelectronics at the Cardiff School of Engineering.
Over the last 35 years Vernon Morgan has applied the physics of semiconductors to microwave and optoelectronic devices and to integrated circuits that are the active components in today's electronic technology. Notably he has taken a particular interest in a material called gallium arsenide. Not content with "nuclear" he is embraced "arsenic" as well, which I have to say is a benign shiny black material with incredible electronic properties. Combined with Gallium, Indium and Phosphorus though, Arsenic compounds are the semiconductors of the future, faster than silicon and with optical properties that can be tailored to match even the spectrum of the sun – offering solar cells with unbelievable efficiency.
So, whether it is electronics or optoelectronics, MOSFETS or photovoltaics, you and the groups you have inspired have had a hand in shaping the future. This in turn brings credit back to Aberystwyth where you first engaged with the physics that led to the electronic devices of the 21st century and which is why we are honouring you today.
Anrhydeddus Lywydd, cyflwynaf i ti yr Athro Vernon Morgan i'w urddo yn Gymrawd Prifisgol Cymru, Aberystwyth.