How green is your phone?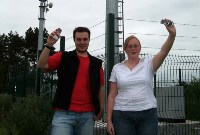 Mr Tim Knowles and Alison Geeves
Thursday 20 July 2006
How green is your phone?
Research students at Aberystwyth to focus on environmental impact of mobile phones
The last ten years have witnessed a 'mobile phone' explosion with an estimated global market volume of 1.25 billion handsets in 2004 (Eurosource Europe). The introduction and popularity of mobile phones has led to a new challenge in waste management.

People in the UK regularly upgrade their mobiles following the latest trends and technologies. However, the problem is that components in the phones including rechargeable batteries and LCD displays are now classified as hazardous waste. Fewer landfill sites can accept such waste and new regulatory procedures and increasing public concerns means that we must rethink our waste management strategy.
Two students from the Institute of Biological Sciences, University of Wales, Aberystwyth (UWA) have won scholarships from the Department of the Environment Farming and Rural Affairs (DEFRA). Mr Tim Knowles and Miss Alison Geeves have been tasked with finding new solutions to the mobile phone problem. Both will conduct research as part of their MSc in "Managing the Environment" at UWA.
Tim will focus on design, manufacture, and will explore new technologies to increase the functions and sustainability of mobile phones. Tim's view is that "The mobile phone industry is enormous. Surely we should seek out and use sustainable components for phone production. Mobiles will continue to revolutionise our lives, we need to alter our behaviour to buy and act green to reduce their cumulative ecological footprint".
Alison will investigate the scope and impact of mobile phone re-use and recycling schemes at national and international levels. "By sending used phones to developing countries there are obvious benefits but are we also presenting such countries with hazardous waste? We must ensure that our idea of sustainable giving meets the demands of sustainable development and environmental protection". She will also look at the potential of the mobile phone networks to promote environmental awareness.
Both students are delighted to have the opportunity to work with DEFRA. Mobile phones are a global issue and most people are either unaware or prefer to ignore this growing environmental problem.