Year in Employment Students receive awards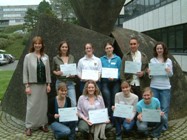 Back row l to r, Emma Harrison, Acting Director of the Careers Service, Sarah Neale, Kirsten Ashby, Gemma Westmore, Michael John Hopkins, Lizzie Cox
Friday 9 June, 2006
Year in Employment Students receive awards

A group of Year in Employment Scheme (YES) students have been presented with the prestigious 'Work Experience Award'. Emma Harrison, the Acting Director of the Careers Advisory Service, presented them with their awards during the recently held annual YES workshop.
The Year in Employment Scheme is a scheme within the University of Wales, Aberystwyth which gives students an opportunity to undertake a year's work experience in the UK or abroad between their second and third year. It's an opportunity for the students to develop skills, make them more employable to future employers and gain invaluable experience.
The 'Work Experience Award' was awarded to those students who had completed their placement year and had completed their Work Experience portfolio to show evidence of their development throughout the year. The award gives students recognition of the employability skills they have gained while on a YES placement. Each student also received 120 credits from Credit Plus, which will go on their university transcript.
Emma Harrison said: "By opting to take part in the YES, these students acquired structured, graduate level work experience. By opting to work towards the Work Experience Award, they each took responsibility for their personal development and have shown themselves to be that highly valuable commodity in the graduate market place - the life long learner."
Student Elizabeth Cox who worked for Rock Eagle, an Environmental Education Centre in America and successfully completed the award said: "The decision to take part in the Year in Employment Scheme was the best decision I've made! The whole year proved to me that I have the ability to make a success of a job that isn't related to my degree. I also returned to university refreshed and inspired to make the most of my final year, and my marks have really shown that. Now that I'm applying for jobs, all the work that I did for the Work Experience Award, especially the reflective writing about my placement, has been extremely useful."
Students who are about to embark on a YES placement were also present and had the opportunity to talk to the students who had completed placements. This year students will be going to a wide range of companies and organisations including The European Voluntary Service, Lloyds TSB, The Environment Agency, The National Assembly and education camps in the USA.