Open office software launched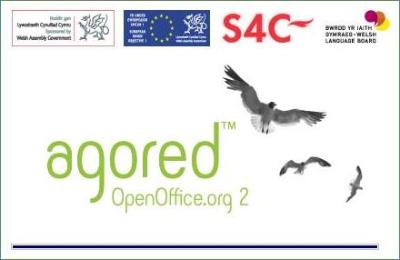 Image of Agored screen identity
Thursday 16 November 2006
Free Office Software launched in Cardiff Bay
Agored, a new free office software suite is being launched today1 by Alun Pugh. The suite, a Welsh and English dual-language version of the OpenOffice suite used worldwide, has been developed over the past two years at the Mercator Centre, University of Wales, Aberystwyth.
Agored represents a major investment by the Welsh Assembly Government, S4C and the Welsh Language Board in the provision of a comprehensive office suite functional in both English and Welsh. Most significantly, Agored is free of charge! Whatever your purpose – domestic, educational, governmental, or commercial – you can download a complete and legal copy of the Agored today from www.agored.com.  Take Agored for a 'test drive': if you like it, keep the keys!
"Agored is going to be an extremely useful tool to many businesses right across Wales who operate bilingually," said Andrew Davies, Minister for Enterprise, Innovation and Networks of the Welsh Assembly Government. Alun Pugh, the Minister for Culture, Welsh Language and Sport added: "The launch of this office software is a major advance within the IT strategy developed by the Welsh Language Board as part of the Assembly Government's strategy for the language, Iaith Pawb."
"This is the largest Welsh software project to date" says Ned Thomas, Academic Director of the Mercator Centre at UWA, "and has involved a team of five at Mercator, with further translators throughout Wales working on the project. Over half a million words of help screens and interface have been translated, and a comprehensive, original handbook has been written from scratch2."
Meri Huws, Chair of the Welsh Language Board said "Agored is the latest in a series of important developments in Welsh language Technology. It's surprising how much is already available in Welsh in this field. This is a most welcome additional contribution."
Agored is a complete office suite, with a word-processing programme (Writer)3 , a spreadsheet programme (CALC)4, a slideshow programme (Impress)5, a drawing and design programme (Draw)6, and a database programme (Base)7. It will happily use all your existing office files in Microsoft Word8, Excel8, and PowerPoint8 format. It has been specially designed with the bilingual office in mind: you can swap from English to Welsh and back again very simply without having to restart your computer or re-install different versions of the software. All the commands and help messages are available in both languages, and the Welsh-language content of the programme is authoritative and standard. You can also use Welsh and English spell-check options within the same document, should you wish to do so.
Agored costs nothing to use for as long as you like, wherever you like. It is everything you need in an office software suite.
So what are you waiting for? Download your copy from www.agored.com.
Notes:
1. Agored was launched on Thursday 16 November in The Oriel, Senedd Building, Cardiff Bay.
2. For further information please contact Ned Thomas, Agored, Stapleton Building, Room W12A, University of Wales, Aberystwyth, Llanbadarn Campus, Aberystwyth, SY23 3AL  01970-621643 e-mail agored@agored.com
3. word processor
4. spreadsheet
5. presentations
6. drawing
7. database
8. Microsoft, Microsoft Office, Word, Excel, and PowerPoint are either registered trademarks or trademarks of Microsoft Corporation in the United States and/or other countries.

Agored.com is sponsored by:
The European Union
National Assembly Government
S4C
The Welsh Language Board