Welsh ancestry to go online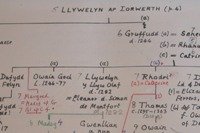 Part of the family tree of Llywelyn ap Iorwerth
Wednesday 1 November 2006
Welsh ancestry of the Dark and Middle Ages to go online

For those who claim they are the direct descendants of some of Wales' major historical figures, for example Hywel Dda, Llywelyn the Great or Owain Glyndŵr, the task of proving or disproving such a connection will become much easier when the University of Wales, Aberystwyth completes one of its latest projects
.
The University's Department of Welsh has been awarded £300,000 by the Arts and Humanities Research Council to create an electronic database of Welsh genealogy between 300 and 1500 AD.
The project is based on the work of Dr P C Bartrum, a native of Hampstead, London who has no links with Wales whatsoever, and who worked as meteorologist until his retirement in 1955.
Since 1929 he has been collecting information about Welsh ancestry from early works such as
Brut y Tywysogion
, manuscripts such as
Harley 3859
(which is kept at the British Library) which dates from around 1100, and other manuscripts largely from the 15th century onwards, which were compiled by heraldic bards, poets who were experts in the ancestral history of noble families.
One such person was Gutun Owain (1450-98), who in 1491 was commissioned to trace the ancestry of Owain Tudur of Penmynydd Anglesey, Henry VII's grandfather. The 16th century poets Gruffudd Hiraethog (died 1564) and Lewis Dwnn (1568-1616) were important genealogists, the later also being recognised as herald in Wales by the London College of Arms.
In 1974 Dr Bartrum published an 8 volume series under the title
Welsh Genealogies AD 300-1400
(University of Wales Press), and in 1983 he published a further 18 volumes,
Welsh Genealogies AD 1400-1500
(National Library of Wales).
Since their publication Dr Barturm, who was born in 1907, has revised the work adding significant amendments and corrections. He recently handed his own personal set over to the Welsh Department where a team of researchers has now started on the work of electronically scanning all the work so that it can be published on-line and as a DVD.
Professor Gruffydd Aled Williams, Head of the Welsh Department at the University of Wales, Aberystwyth said;
"P C Bartrum's work is a mine of information and an important source for academics, historians and literary historians, who study this period. It makes it possible to identify a person's lineage, his period and region with a minimum of effort, work which would otherwise take months of researching original manuscripts."
"By putting all this information on-line more people will have access to it. From the recent surge in interest in genealogy I am sure the web site will become widely used. In theory, anyone who can trace their ancestry back to the 16th century should be able to go back much further thanks to Dr Bartrum's work," he added.
The project involves transferring the thousands of names which have been logged in Dr Bartrum's work to a customised computerised database. By the time the work is completed in 3 year's time it will be possible to find the relevant ancestral line simply by entering an individual's name into a search facility. This means that every entry on every individual page will be identified electronically.
The project
'An electronic Version of Welsh Genealogies AD 300-1500'
by Peter Clement Bartrum is directed by Dr Bleddyn O Huws, Professor Gruffydd Aled Williams and Professor Patrick Sims-Williams. The project team consists of Dr Gwen Angharad Gruffudd (Post-doctoral Fellow) Dr Iwan Tudor Price (Clerical Assistant) and Claire Melton (Computing Consultant).