Llanbadarn Student Residences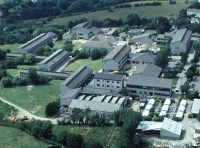 The Llanbadarn Campus
Friday 3 November 2006
Llanbadarn Student Residences
A review of student accommodation on the University's Llanbadarn campus has concluded that the residences there have reached the end of their working life.
As a result, a recommendation to close the Llanbadarn residences at the end of June 2007 was approved by the University's Council at its meeting on Wednesday 1st November.
Dr John Harries, Pro Vice Chancellor, said:
"A detailed study of the Llanbadarn residences has revealed a number of structural problems which arise from the design of the buildings and materials used in their construction. The study also looked at the cost of refurbishing the buildings and it was concluded that this was prohibitive. For this reason the University's Council has accepted the recommendation that they be closed at the end of June 2007."
The Llanbadarn residences provide accommodation for up to 300 students in 5 blocks; Aeron, Cletwr, Einion, Dyfi and Leri.
Following the decision the University is embarking on a full consultation process with all the staff that are likely to be affected by the decision.
The University is now in the process of developing a new estates strategy which will decide the future needs and location of student residences.