High-level debate on nuclear weapons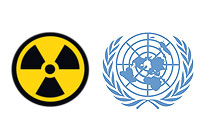 Radiation and UN logos
Wednesday 29 November 2006
International Politics organises high-level debate on nuclear weapons

The David Davies Memorial Institute (DDMI) which is based at the Department of International Politics, has teamed up with the United Nations Association of Wales to organise a high-level debate on nuclear weapons.
Following the UK Government's announcement yesterday that a vote will take place in early 2007 on the future of Trident, Britain's nuclear weapons system, this conference in Cardiff offers the first major opportunity to contribute to the important public debate leading up to the vote.
When?
       On Saturday, 2 December 2006, from 11.15am to 5.45pm
Where?
        At the Temple of Peace, Cathays Park, Cardiff CF10 3AP
What?
         A high-level conference on nuclear non-proliferation and disarmament, and the UN's role
Who?
         Attending the event will be academics and students, parliamentarians, advocacy groups, journalists and interested members of the public.
The conference will feature expert speakers and debate on:
        The future of Trident - Britain's nuclear weapons system
        Nuclear non-proliferation
        The threat of nuclear terrorism
        The role of the UN
The conference is being organised by the United Nations Association of Wales, UNA-UK and the David Davies Memorial Institute of the Department of International Politics, University of Wales, Aberystwyth. The Institute's research activities are located at the intersection of the politics, law, and ethics of contemporary world affairs.  Under its current Director, Professor Nicholas J. Wheeler, the DDMI is currently engaged in projects on the 'responsibility to protect', the long-term viability of the nuclear non-proliferation regime and trust building in world politics. 
The DDMI is committed to a public education mission to promote greater awareness of global issues and, to that end, has been instrumental in forging a close relationship with the United Nations Association Wales (UNA Wales), which is based in the Temple of Peace and Health in Cardiff that Lord Davies established for the people of Wales in 1938.
For further details about the research and activities of the DDMI, please contact the Programme Officer, Rachel Owen at
ddmstaff@aber.ac.uk
Contact: For further information on press accreditation and photo opportunities for the Cardiff Conference, as well as arranging interviews with the speakers, please contact Tim Kellow at UNA-UK on 020 7766 3446 or
kellow@una.org.uk