Director of Research and Enterprise Partnership appointed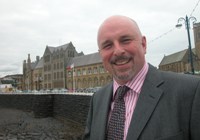 Dr Hugh Aldridge
Monday, 2 October 2006
Director of Research and Enterprise Partnership appointed
Dr Hugh Aldridge has been appointed Director of the newly established Research and Enterprise Partnership between the University of Wales, Aberystwyth (UWA) and the University of Wales, Bangor (UWB).
Prior to his appointment Dr Aldridge was Director for Industry at The Cambridge – MIT Institute at Cambridge University. He has previously worked as Associate Director Corporate Liaison Office at the University of Cambridge and as Strategic World Wide University Relations Manager for Hewlett Packard.
Speaking of his vision for the new partnership, Dr Aldridge said:
"The aim of the Partnership is to create sustainable collaborations between the researchers at UWA and UWB that can compete with the best in the world and have a significant impact on the economy and society of Wales and the UK. My role is to facilitate this process."
A zoologist, he studied for his first degree in Birmingham and his PhD in Bristol. Amongst his interests he lists painting, cycling and swimming, and as native of Dorset he is glad to be back living and working near the sea.
The UWA/UWB Research and Enterprise Partnership
is an initiative of the Higher Education Funding Council for Wales aimed at enhancing research and enterprise activities at the University of Wales, Aberystwyth and the University of Wales, Bangor.
The Partnership features a joint research management structure and targets investment in academic areas where the institutions have research synergies. A joint Research and Enterprise Support Unit will also be established to support academics in identifying research funding priorities, increase research grant funding and manage large projects. It will also lead to increased activity in consultancy, industrial research, licensing and the pursuit of other third mission objectives.
Eventually the partnership will involve collaboration in a wide range of subject areas. Initially, this targeted investment will involve the development of four joint research centres: The Centre for Catchment and Coastal Research, the Welsh Centre for Integrated Research in the Rural Environment, the Centre for Advanced Functional Materials and Devices Research, and the Institute for Medieval and Early Modern Studies.