Land, life and leisure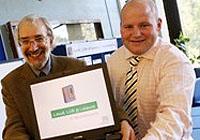 L to R Phil Colburn, Land, Life & Leisure Editor, and Dan Downes of NFU Cymru at the launch of the new pilot service
Tuesday, October 17 2006
Land, life and leisure
Log on for free rural information service in West Wales

A key source of up-to-date information about agriculture and the rural economy is now available to people living in West Wales as part of a pilot project.
The University of Wales Aberystwyth is opening up its Internet-based Land, Life and Leisure database to 60 public libraries across Pembrokeshire, Ceredigion and Carmarthenshire.
Anyone in the three counties with a library card can use the free service, which was previously available only to subscribers, including universities, colleges and government organisations across the UK.
The project, which is funded by CyMal, Museums, Archives and Libraries Wales, as part of the Linc y Canolbarth scheme, is designed to give farmers, small business owners, countryside workers and school students access to the latest countryside information at the click of a computer mouse.
Land, Life and Leisure is a mine of information on all aspects of the rural economy, containing thousands of references to agriculture, rural affairs, animal sciences, countryside management, equine studies, conservation, environmental topics, horticulture, forestry and tourism.
The database holds the latest news and research, web links, references to academic, professional and popular periodicals, press releases, conference proceedings, reports and books.
Up to 400 records of newly published information are made available every week with around 20,000 items added every year.
"Land, Life and Leisure is designed to help users find the information they need quickly," said Phil Colbourn, rural sciences librarian at the University of Wales Aberystwyth. "It's crucial for those who wish to research or track issues over a period of time.
"A key resource for people working with and within the rural community, it's the only agricultural and rural sciences database to include press releases, research journals and the popular press.
"Until now it has only been available to universities, colleges and government organisations that subscribe to the service, but we recognise that the information contained in the database could be used more widely.
"If the pilot project is successful, it is feasible that the service could be rolled out across Wales."
Weekly contributions to the database are received from the University of Wales Aberystwyth, the Royal Agricultural University, Harper Adams University and Kingston Maurward, Myerscough and Pershore Colleges.
FUW President Gareth Vaughan welcomed the new Internet database as a very useful tool for farmers for research and business planning awareness.
"I'm told, for example, that if you want to find information about bluetongue disease there are currently 36 references listed with more to come in the forthcoming weeks as it is such a topical issue," he said.
"Obviously, the Land, Life and Leisure database is an exciting new way of seeing what is current in the farming press and journals and gathering good quality background information and tracking what is written about farming organisations, like the FUW, in the wider press."
Dai Davies, President of NFU Cymru and a dairy farmer from Whitland, also welcomed the launch of this project. "Farmers like myself in West Wales can now make the most of a shopping trip into town with the wife.
"A visit to the library means we can have all the information we require to help us with our businesses at the click of a button. This new resource compliments the information already available to NFU Cymru members via our website and magazine."
Notes for the Editor:

Land, Life and Leisure started life in the early 1980s as Update – the farming and countryside index compiled in the Welsh Agricultural College library and printed in weekly and monthly editions for agricultural colleges.
Since 1996, it has been available on the Internet, hosted by the University of Wales Aberystwyth and since August, 2002 by Edina at Edinburgh University. In 2005, the database was renamed Land, Life and Leisure to reflect that it now includes references to tourism and recreation, as well as agriculture and the countryside.
For more information, please contact Sue Ferguson at Land, Life and Leisure on 01970 621869 or Duncan Foulkes, public relations consultant, on 01686 650818.