UWA rare books collection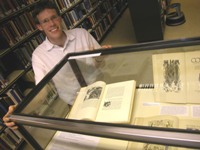 Dermot Ryan with some of the University's rare books and manuscripts
Monday October 23 2006
UWA rare books collection

Dermot Ryan, Collection Management Team Leader at Information Services, highlights the University's collection of over 10,000 rare books and manuscripts, examples of which are currently being exhibited at the Hugh Owen and Thomas Parry libraries.
UWA has a number of special collections of books and pamphlets housed in its libraries. These include named collections that have either been bequeathed to or purchased by the Library, or specific collections that have been formed within subject areas or themes. The items contained within these collections are often of antiquarian value or rare, or examples of fine printing or book production.
One example is a collection of books, manuscripts and objets d'art donated by George Powell of Nanteos between 1879 and 1882. The collection includes approximately 2500 printed books ranging from French and English literature to music and fine art, and around 300 volumes of 19th century printed music with particular emphasis on Romantic music and Wagner.
Included in the collection is an eight volume set of Warburton's edition of Shakespeare published in 1747. It was used by Samuel Johnson in the preparation of his dictionary and the pages are accordingly heavily marked and underlined. After belonging to a number of owners the set was bought by Powell in 1862 for £15.15.0. A microfilm copy of this work is available for anyone wishing to work on these volumes.
The production of full Voyager catalogue records for the rare book collections is ongoing. In the interim, a Rare Book Database provides a search facility for over 10,000 rare books held in the Hugh Owen and Thomas Parry libraries (available via the Rare Books tab on the Voyager search screen). The database can be used in conjunction with Voyager to check if the library holds a particular item or to browse a subject area. When you locate an item on either system that you wish to consult, requests can be submitted online.
There are regular displays of rare book material in the Hugh Owen and Thomas Parry libraries. The current Thomas Parry display features examples of Victorian colour printing and publisher's bindings from the Appleton Collection, while one of the current displays in Hugh Owen has a theme of travel in Wales, featuring publications from the late 18th century to the middle of the 20th century.
The second Hugh Owen display features examples of fine printing and binding from the Gregynog Press. The Gregynog Press was established in 1922 by two sisters, Gwendoline and Margaret Davies at their house, Gregynog Hall in rural mid-Wales. During the next eighteen years the Press gained a reputation for producing limited edition books of the highest order and ranked alongside the leading Private Presses of the day. Re-established in 1978 under its Welsh title Gwasg Gregynog, the Press continues the traditions of its forebears, and the Library regularly adds to its already extensive collection of Gregynog Press material.
For more information on searching for and requesting Rare Books, go to:
http://www.inf.aber.ac.uk/publications/leaflets/ll26h.asp
For more information on specific collections, go to:
http://www.inf.aber.ac.uk/academicliaison/collections/
Dermot Ryan
Collection Management Team Leader
Information Services