Conference: The Future of Welsh Politics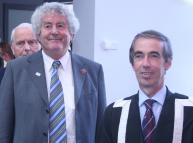 The First Minister Rhodri Morgan and Professor Noel Lloyd during the opening of the new International Politics Building.
Tuesday, 19 September 2006
Conference: The Future of Welsh Politics
On Wednesday September 20th the University of Wales Aberystwyth's Institute of Welsh Politics will hold a key conference at the Wales Millennium Centre in Cardiff with the First Minister for Wales, The Right Hon. Rhodri Morgan AM delivering the keynote address.
Amongst other contributors to the 'Future of Welsh Politics' will be Lord Richard, who Chaired the 'Richard Commission' on the Powers and Electoral Arrangements of the National Assembly for Wales in 2002-04, and four Assembly Members; Jocelyn Davies (Plaid Cymru), John Griffiths (Labour), David Melding (Conservatives) and Jenny Randerson (Liberal Democrats).
Dr Richard Wyn Jones, Director of the Institute of Welsh Politics said:
'We are at a very important time in Welsh politics. The new Government of Wales Act has introduced significant increases in the National Assembly's powers. And the political year ahead will be dominated by next May's elections: which will decide who gets to wield the National Assembly's new powers. This conference will bring together many of the key figures in Welsh politics, to assess where we stand today as a nation, and what the future is likely to bring.'