Century for Information Studies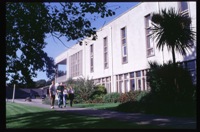 The Thomas Parry Library
Twenty years on from launching its first distance learning courses for librarians, the Department of Information Studies at the University of Wales, Aberystwyth is celebrating its largest ever intake of Masters students.
One Sunday 3rd September one hundred new Masters students from all corners of the world will attend their first study school at Aberystwyth (3rd - 7th September), an increase of over 60% on the previous year.
Countries represented in this year's intake include Canada, China, Cyprus, Spain, Belize, Germany, Greece, Lebanon, the Cayman Islands, Thailand, Uganda, Ireland, England and Wales.
Dr Geraint Evans is a lecturer on the Distance Learning programme.
"This has been an exceptional year in terms of recruitment. Distance learning is becoming an increasingly popular mode of study as the financial burden of full time study gets heavier."
"Libraries have long recognised the need for staff to learn new skills and study for higher qualifications, and see distance learning as a means of facilitating this whilst at the same time retaining valuable staff. Employers are also investing more in staff training, last year 45% of our UK based students received financial support."
Last year 'Cymal', the National Assembly's Museums, Archives and Libraries Wales policy division, launched four scholarships which contribute 50% of the £5000 fee of a Masters course for students resident in Wales.
The Department offers four MSc courses for distance learners; Information and Library Studies, Archives Administration, Records Management, Management Information and Library Services, and Health Information Management.
On average each Masters course takes three years to complete and students are expected to attend a study school once a year at Aberystwyth.
The Department has also pioneered the use of IT to provide a range of services to students via its own online computer conferencing system, Gwylan, which provides an easy way for students to keep in touch with fellow students and their personal tutors.
Originally established in 1964 as the College of Librarianship Wales, the Department became part of the University of Wales, Aberystwyth in 1989. It currently has over 1000 students of which 75% are distance learners.