The National Eisteddfod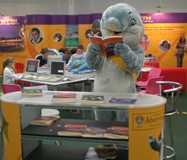 Dewi the Dolphin will be at the Eisteddfod
Thursday 2 August 2007
The University at the National Eisteddfod of Wales

The University of Wales, Aberystwyth is offering a full programme of activities at its stand at next week's National Eisteddfod of Wales (4-12 August). The programme includes an opportunity to make a short film about the Maes, lectures, literary readings, a political quiz, book launches and receptions for prospective and former students.
There is also a warm welcome to school students, alumni, teachers or anyone who would like a cup of tea and a chat, and there will be a chance for children to come and play on the Playstation, draw pictures, and meet Dewi the Dolphin, our very special Mascot!
The Centre for Educational Studies celebrates 25 years

Representatives from the Centre for Educational Studies (CAA) will also be on the stand throughout the week, so come over for a chat and have a look at their most recent publications. The Centre celebrates its 25 anniversary this year and continues to thrive in the education publication market in Wales.
External Welsh Medium Degree

If earning a degree by studying part-time appeals to you, why not call in to discuss the various options with staff and students of the External Welsh Medium Degrees, who will be at the stand throughout the week.  The External Degree is unique and taught totally through the medium of Welsh.  You control the rate at which you study and modules can be studied independently or as part of a full BA degree in Welsh.
The Old Students Association

The University's Old Students Association will also have representatives on the stand and there will be an opportunity for former students to join the society if they have not already done so. This is an excellent opportunity to share memories and meet old friends and pick up your ticket for the reception for the Old Students which is being held at 3 pm on Wednesday afternoon at the 'Bant a la Cart' stand.
The Week's Events
Monday 6th of August

10 am – 4 pm: Maes yr Eisteddfod: Ddy Mwfi
A great opportunity for anyone who have their eye on acting or producing a film; this is their chance! A member of staff from the Department of Theatre, Film and Television Studies will be present to give training on using the equipment and to guide you through the process of producing and editing a film.
Tuesday 7th August

11 am: The Irish Lecture. Interested in Celtic languages? If so, come over for a taste of a lecture given in Irish by Dr Ian Hughes from the Welsh Department.  You can be sure it will be an interesting and lively 'lesson'!
2 pm: The launch of two studies by two authors about Celtic language and literature.  An opportunity to join two members of the Welsh Department as they celebrate the publication of their most recent works.  Dr Rhisiart Hinks will be launching;
-       
'Pawb yn ei Baradwys / yn ei Uffern ei hun, 1-202;
-       
'Heb fenthyca cymaint â sill ar neb o ieithoedd y byd'
; a
-       
'Bezañ beleg a zo kargus koulz 'vel bezañ relijiuz'
, 1-173.
Dr Ian Hughes will be launching
'Math uab Mathonwy: Pedwaredd Gainc y Mabinogi'
. Meet the authors over a glass of wine.
Wednesday 8th of August

11 am: Readings
An opportunity to hear some literary readings by staff from the Welsh Department and renowned ex-students; Huw Meirion Edwards, Eurig Salisbury, Gerwyn Iwan Rhys and Hywel Griffiths.
2.30 pm: Political Quiz
How much do you know about Welsh Politics? A political quiz in the company of Lyn Lewis Dafis.  A warm welcome to everyone, come with your friends to compete in a team!
3 pm: Old Students Reception
A great opportunity to share memories and meet old friends at the 'Bant a la Cart' stand. Entry by ticket only. Tickets available at the University's stand.
Thursday 9th of August

11 am: Environmental Study Launch
Hefin Williams from the Institute of Rural Sciences will be launching his publication on Agricultural/Environmental Terminology at the University's stand on Thursday morning, in the company of Professor Aled Gruffydd Jones and a special guest.
Friday 10th of August

3 pm: Reception for prospective students
A warm welcome is extended to every 2007 prospective students to join us on the stand for a drink and entertainment from the group Vanta.  There will be a chance for you, your parents and friends, to come and talk to University staff and to meet other young people who will be coming to Aber in September. 
3 pm: Pabell y Cymdeithasau
Public meeting on 'Cymru wedi Etholiad y Cynulliad 2007' (Wales following the Assembly Election 2007), which is being organised jointly by the University's Department of International Politics and the Electoral Commission. An excellent opportunity to discuss and question a panel of experts.
4.30 pm: The Institute of Welsh Politics celebrates its 10th Anniversary
To mark its 10th anniversary The Institute of Welsh Politics is holding a celebratory reception for former students of the Department of International Politics at the University's stand. The reception follows on immediately after the public meeting in Pabell y Cymdeithasau.