The No Worries Guide to Clearing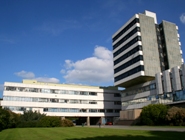 The Penglais Campus
Thursday 16 August 2007Aberystwyth launches The No Worries Guide to Clearing
The University of Wales, Aberystwyth has launched a new guide for students faced with navigating their way through clearing following the publication of A level results.
The No Worries Guide to Clearing is available free online from
http://www.aber.ac.uk/en/clearing/guide.php
and provides advice and tips on what to do immediately after the results are released and subsequently until a place at university has been secured.
The guide was developed by Dr Ian Harris, Digital Marketing Officer at the University of Wales, Aberystwyth. "The idea behind the development of the No Worries Guide to Clearing was to provide an unbiased and clear guide for pupils looking for a place at University. The best advice at this stage for those who do find themselves in Clearing is not to rush. Research thoroughly the options available and then move quickly to secure a place on the course of their choice and at their favoured university."
A significant number of The No Worries Guide to Clearing have already been downloaded. Every person who downloads the guide is also entered into a free draw for an iPod Shuffle.