Most People are Other People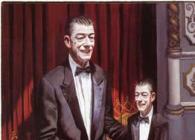 John Hurt, 2001
Monday 12 February 2007
MOST PEOPLE ARE OTHER PEOPLE
Portraits Of Actors From Britain & Ireland
By Stuart Pearson Wright

The School of Art at the University of Wales, Aberystwyth is hosting an exhibition of work by Stuart Pearson Wright from Monday 12 February until Friday 11 May, 2007.
'Most People Are Other People' features drawings of famous actors, including Timothy Spall who came to prominence in the television drama
Auf Wiedersehen Pet
, Sian Phillips who is best remembered for her role as Livia in the BBC production of
I, Claudius
, Alan Rickman, the voice of Marvin in the recent movie
The Hitchhicker's Guide To The Galaxy
, Terry Jones of
Monty Python
fame, Jeremy Irons and Daniel Ratcliffe who plays Harry Potter.
Robert Meyrick, Head of the Aberystwyth School of Art said:
"Stuart Pearson Wright has been called a 'Hogarth for Our Times'. A multi award-winning artist living and working in East London, he came to public attention around the time of his graduation from the Slade School of Fine Art in 1999. He is a keen advocate of the fundamental importance of drawing."
"While best known as a portraitist, he has painted and etched landscape, and in 2006 exhibited still life paintings at Browse & Darby, London. In fact, he is one of our most versatile artists, demonstrating immense commitment and energy as a painter, draughtsman and printmaker."
Most People are Other People opened at the National Portrait Gallery and the National Theatre, London in Summer 2006. Its visit to the School of Art at Aberystwyth will be the only opportunity to see this exhibition in Wales.
MOST PEOPLE ARE OTHER PEOPLE, Portraits Of Actors From Britain & Ireland, by Stuart Pearson Wright, is at the University of Wales, Aberystwyth, School of Art Gallery from Monday 12 February until Friday 11 May 2007. The Gallery is open to the public between 10 a.m. and 5p.m. Monday to Friday.