"Territorial identities and boundaries in a borderless world"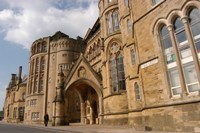 The Old College
Wednesday 14 February 2007Gregynog Lecture
"Territorial identities and boundaries in a borderless world"

Professor Anssi Paasi of the Department of Geography at the University of Oulu, Finland, will Deliver the Gregynog Lecture today, Wednesday 14th February. The lecture takes place at 7 p.m. in lecture theatre A12 of the Hugh Owen building.
Professor Paasi is one of the world's leading political geographers with interests in four main areas; Social construction of regions and territorial identities; Theories of region and place; The links between territories, boundaries and individual/social consciousness; The rhetoric of globalization and geopolitical imagination.
In his lecture Professor Paasi will make important connections across the social and political sciences in an era of continuing globalisation. Over the last 20 years, Professor Paasi has published numerous international journal articles, edited and authored books, and has represented many international journals.
Professor Paasi also holds an honorary professorial position in the Institute of Geography and Earth Sciences, an appointment made to distinguished international scholars.