Dysgu Gyda'n Gilydd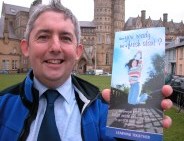 Dafydd Wyn Morgan
Thursday 22 February 2007Penuwch to become focus for learning

Interested in healthy cooking, local history, creative writing or digital photography? These are only some of the activities which are being organised for people living in Penuwch by the University of Wales, Aberystwyth community-led learning programme,
Dysgu Gyda'n Gilydd
, during March and April.
The programme of free taster sessions gets under way on Monday 5th March at 7 p.m. with a two hour session on rustic furniture at Maesywawr Bontnewydd under the direction of tutor Jonathon Lewis.
The full programme is:
Thursday 8th March, Introduction to the Internet 7-9p.m. at Ysgol Penuwch
Monday 12th March, Rag-rugging, 7-9 p.m., at Ysgol Penuwch
Wednesday 14th March, Local History, 7-9 p.m., at Ysgol Penuwch
Monday 19th March, Creative Writing, 7-9 p.m., Pentre Sali Mali, Blaenpennal
Thursday 22nd March, Healthy Cooking, 7-9 p.m., Ysgol Penuwch
Monday 26th March, Yoga, 7-9 p.m., Ysgol Penuwch
Monday 2nd April, Welsh for Beginners, 7-9 p.m., Ysgol Penuwch
Wednesday 14th April, Using a Digital Camera, 6-8 p.m., Ysgol Penuwch
Wednesday 25th April, Community Gardening, 6-8 p.m., Ysgol Penuwch
Dafydd Wyn Morgan is the
Dysgu Gyda'n Gilydd
Project Manager.
"The programme of taster sessions at Penuwch is really a starting point for people to think about what they might like to see organised for the longer term.
Dysgu Gyda'n Gilydd
is about listening to the community and then helping people who live there to organise the courses they want by finding tutors or arranging childcare for example," he said.
"Many activities will directly involve rural schools as locations for lifelong learning and thus ensuring the continued theme of community-focussed schools."
"A network of trained coordinators has been established who work closely with each community so that the programme which eventually emerges reflects that community's needs, its wishes and ambitions. The project is also working towards a sustainable blueprint for future rural community learning activities," he added.
Dysgu Gyda'n Gilydd
was launched in March 2006 to provide training opportunities in ten communities in Ceredigion, Llangeitho, Lledrod, Tregaron, Llanfihangel Ystrad, Llanarth, Llangybi, Capel Dewi, Troed yr Aur, Llandyfriog and Penbryn. Set a target of enrolling 140 individuals on courses over 2 years, the project has already registered 143 people onto courses in 6 areas within the first 12 months.
The project is funded by the European Social Fund and delivered by the University of Wales Aberystwyth, with the assistance of partner organisations such as Dysgu Bro /Community Learning, Coleg Ceredigion, University of Wales, Lampeter, and the childcare project, Genesis.
If you live in any of the ten areas covered by the project and would like to get involved contact Dafydd Wyn Morgan on 01970 628516 or by e-mail
wwm@aber.ac.uk
.