Professor Gwyn Jones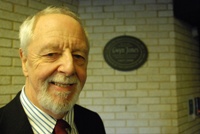 Dr Sam Adams at the unveiling.
Monday 22 December 2008
Professor Gwyn Jones
A plaque of Welsh slate has been unveiled at Aberystwyth University to commemorate the life and works of the acclaimed scholar, novelist and short story writer, Professor Gwyn Jones.
The plaque was commissioned by The Rhys Davies Trust, with the support of Academi, Aberystwyth University and Oxford University Press, and was unveiled on Tuesday 9 December by the poet, critic and editor, Dr Sam Adams who became one of Professor Jones's students at Aberystwyth in 1952.
Originally from New Tredegar in Monmouthshire, Professor Jones was a Welsh novelist and story writer, and a scholar and translator of Nordic literature and history. His translations include
Four Icelandic Sagas
(1935),
The Vatndalers' Saga
(1944),
The Mabinogion
(1948),
Egil's Saga
(1960),
Eirik the Red and Other Icelandic Sagas
(1961) and
The Norse Atlantic Saga
(1964). He also wrote
A History of the Vikings
(1968) and
Kings, Beasts and Heroes
(1972).
In addition to his translations, he was an important author in the Anglo-Welsh tradition. His novels and story collections include
Richard Savage
(1935),
Times Like These
(1936),
The Nine Days' Wonder
(1937) and
Garland of Hays
(1938),
The Buttercup Field
(1945),
The Flowers beneath the Scythe
(1952),
Shepherd's Hey
(1953) and
The Walk Home
(1962). In 1977
The Oxford Book of Welsh Verse in English
which was published of which he was editor.
He was appointed Professor of English at Aberystwyth in 1940 where he stayed until his appointment to the Chair of English at Cardiff in 1964. He died in 1999.
Speaking at the unveiling, Dr Adams recalled the first time he saw Professor Jones.
"The first time I saw him in the round, as it were, was on an evening in November of the same year, 1952, when, in full academic fig, (indeed far more formally attired that I was accustomed to seeing him later) he led a small and peculiarly dishevelled guest to the platform at a meeting of the Arts Society in the old Exam Hall. With what I came to recognise as the characteristic smile in his voice, and in perfectly formed sentences, he introduced to the packed audience this individual in shapeless brown suit and what to all appearances was a pyjama jacket rather than a shirt. It was Dylan Thomas. The
Collected Poems
had not long come out and his reading, the whole experience of that night, was unforgettable. A year later Dylan Thomas was dead in New York."
The Rhys Davies Trust was established in 1990 in memory of Rhys Davies, a Welsh novelist and short story writer, to promote Welsh authors writing in English. The Trust sponsors the Academi's Rhys Davies Short Story Competition and has commissioned a dozen plaques commemorating Welsh writers in English.
The plaque, which is the work of the artist- craftsman Ieuan Rees, is on permanent display in the University's Hugh Owen Library.