Pool opened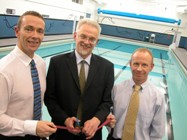 Director of Planning Mr Brian Foster (centre) officially opening the newly refurbished swimming pool. On the right is Mr Frank Rowe, Director of the Sports Centre, and on the left is Jeff Saycell, the centre's Facilities and Commercial Manager.
Monday 11 February 2008
Refurbished University swimming pool opened
The University's newly refurbished swimming pool has been officially opened by one of its most loyal swimmers, the Director of Planning Mr Brian Foster.
The 25 yard swimming pool, which was built over 60 years ago, has been resurfaced, with new ventilation and heating systems and double glazed windows installed to provide a far more pleasant swimming environment and significantly reduce running costs.
New monitoring equipment, which makes possible the accurate measurement of energy savings, has been installed as part of the £400,000 project. As a result annual Carbon Dioxide emissions are expected to be cut by at least 50 tonnes per year.
Speaking at the opening on 31st o January, Mr Brian Foster thanked the staff at the Sports Centre for the service they provide and praised the work of those who had been responsible for the original build in the 1940s.
"As a devoted user of the pool over 40 years I can say how relieved I was when it reopened. Everyone is impressed by the work and by the fact that it has been completed on time. It is a tribute to the workmanship of that era that the pool has survived in comparison with the problems experienced by much newer pools," he said.
The Sports Centre is committed to improving the enjoyment of its users with a continual programme of works. It is in the process of developing a small café facility so that customers can relax after their session. There are also plans for new gym equipment and expanding the spin classes so watch this space!
The pool is open to all Aberystwyth University staff and students and to members of the 300 Club. For further information about membership and pool opening times, contact the Sports Centre on 01970 621500 or email
sports@aber.ac.uk
.
The original contract for the swimming pool was signed in 1939 and the price agreed was £17,000, which included a grant of £10,000 from the National Fitness Council. The building work was completed in 1945.
The decision to build a 'swimming bath' was made following a survey of student participation in sports activities in 1937 by the College and Students' Joint Committee. The area of the all weather pitch, opposite the Sports Hall, was developed at the same time to accommodate a hockey pitch and running track.