'Beacon' status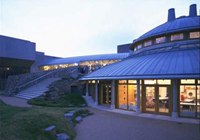 Aberystwyth Arts Centre
Tuesday 29 July, 2008
'Beacon' status for Arts Centre
Aberystwyth Arts Centre, part of Aberystwyth University, has been awarded a Beacon Company Award by the Arts Council of Wales.
Launched by the National Assembly Government in November 2007, the Beacon Company Awards are designed to recognise companies in the arts who demonstrate excellence and innovation in their field.
The Arts Centre is one of 22 organisations to be recognised and will receive £120,000 between September 2008 and March 2010.
Alan Hewson, Director of Aberystwyth Arts Centre said;
"We are very proud to be chosen as a Beacon in the first series of Beacon Awards. It is a recognition of the major role Aberystwyth Arts Centre plays in the cultural life of Wales. The major redevelopment funded in 2000 enabled the Arts Centre to greatly extend the range and quality of its work and the award acknowledges that.
"The current development of artists studios and creative business units designed by one of the UK top designers Thomas Heatherwick, which will open in October, helps to further extend our work particularly for artists and arts businesses and takes the Arts Centre to the next level of its development," he added.
Aberystwyth Arts Centre is Wales' largest arts centre and is recognised as a 'national flagship for the arts'. The Centre welcomes over 650,000 visitors a year, including over 100,000 attendances for performing arts and events featuring local, national and international work, 236,000 for exhibitions and over 100,000 for its unique community arts and education programme.
In 2000 the Arts Centre completed a major £4.3 million redevelopment and is currently undertaking an additional £1.75 million development which will add an artists and creative industries studios complex as well as dance studios and performance spaces which will be the base for a new major artists in residence programme. This will give Aberystwyth Arts Centre a range of facilities unrivalled throughout much of the UK.
Dai Smith, Chair of the Arts Council of Wales, said:
"The Awards selection process has been extremely intensive and challenging, not least because of the overwhelming volume of high quality applications we received, which reflects the tremendous work going on in Wales. ACW consulted externally on the Beacon criteria and Council has involved at every stage external moderators to ensure the Awards have gone to those organisations which best fulfilled the evaluation and eligibility criteria."
The recipients of the 2008 Beacon Company Awards are:
Aberystwyth Arts Centre
Academi
BBC National Orchestra of Wales
Clwyd Theatr Cymru
Clwyd Theatr Cymru Theatre for Young People (TYP)
Contemporary Temporary Artspace (g39)
Dawns Tân Tân Dance Ltd
Diversions Dance Company
Ffotogallery
Galeri
Glynn Vivian Art Gallery
No Fit State Community Circus Ltd
Oriel Davies Gallery
Oriel Mostyn, Llandudno
Rubicon Dance
Ruthin Craft Centre
Taliesin Arts Centre
Theatr Iolo
Theatr Mwldan
Valley & Vale Community Arts Ltd
Valleys Kids
Welsh National Opera